News
Inside Danish Sport: Fitness and a cool head key to Rune enduring in Rome and Paris
---
Analysis: Danish tennis player has the clay court skills and winning habit, but can he last the course to land his first Gram Slam title?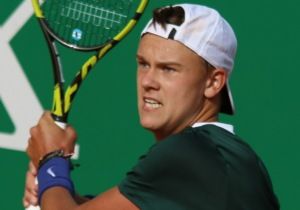 How strong is Holger Rune, actually?
Not in terms of tennis skills. Denmark's just turned 20-year-old tennis star is worthy of a place among the world's best. But how physically strong?
Perhaps this is a strange doubt to cast on a young man bursting with energy and fighting spirit who has been a breath of fresh air to the sport.
But Rune's season so far has been a rollercoaster. We have marveled at great victories only to mourn close defeats in matches Rune should have won.
Fine margins
Ranked higher than ever at number seven, his potential is so great that a Grand Slam title is within reach, but should the chance be there, will he be able to execute?
At the Australian Open in January, he suffered a hand injury and lost a nerve-wracking five-set match against the powerful Russian hitter Andrey Rublev. And then more or less the same thing happened against the same opponent in April in the final in Monte Carlo, where Rune lost 5-7 in the decisive set.
When he bounced back to win the title in Munich, it was only by a thread, surviving four match points in his opponent's favour, and Rune again ended up dealing with fine margins at the Masters 1000 tournament in Madrid last week. In victory against Alexander Bublik he survived another match point, before a narrow defeat to Alejandro Davidovich Fokina – again losing 5-7 in the decisive set.
Do you sense a common thread here?
Cool head must prevail
This week, the Masters 1000 in Rome awaits before the second Grand Slam of the season, the French Open on the gruelling clay in Paris, which starts in two weeks' time on May 22.
Last year, Rune sensationally reached the quarter-finals, beating Greek hard-hitter Stefanos Tsitsipas among others.
Eventually, he lost to Norway's Casper Ruud, getting into a brawl with Ruud's father in the locker room. There was controversy in Madrid last week yet again, where Rune was booed by local spectators after a judge's ruling.
If Rune is to take the big step, as his many fans hope, then his physique and a cool head must prevail. His full attention must be on the match, not on what the opponent or umpire are doing.
Time to strike is now
Let's face it, the world of tennis is missing some new stars right now.
Roger Federer has retired and an injury-plagued Rafael Nadal is reaching the end of his career – in fact, the King of Clay may not even defend his title in Paris. This pretty much leaves the eternal Novak Djokovic as the only major star, but he has now turned 35.
This leaves a door open for a new brigade led by 'Carlitos', the Spanish world number two Carlos Alcaraz, who like Rune is 20 years old. The 'New Nadal' has just taken titles in Barcelona and Madrid and will be the favourite in Rome and Paris, where his biggest challenger will be Djokovic.
On a good day, Rune can join their company. However, it requires that he has had time to rest his body after a busy schedule. Several hours of gravel hitting are only for the toughest.