InOut
This Week in Copenhagen: Freddie returns with the Royal Run!
---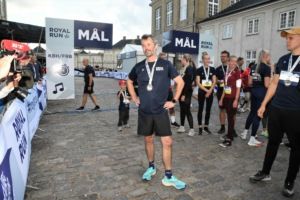 The Royal Run
May 29; different starting points, Copenhagen; 185-345kr; royalrun.dk
As part of an initiative to promote a healthy lifestyle, the Royal Run was first organised by Crown Prince Frederik in 2018 to mark his 50th birthday, and the event has endured since then. This year's event will welcome a record number of participants. Consisting of walking and running events over three distances – 1km, 5km, and 10km – both children and elderly people are welcome to participate.
CPH Stage
June 1-10; various venues; cphstage
Danish performing arts take centre stage in this theatre festival. Look out for more details at cphpost.dk next week!
Founders Live Copenhagen
May 25, 17:00-20:00; Talent Garden Copenhagen, Danneskiold-Samsøes Allé, Cph K; free adm; founderslive.com
Up to five handpicked Copenhagen founders will take the stage, each with only 99 seconds to pitch their company and value proposition to an eager audience who will choose the winner.
Social Danish: learn how to talk, think and act like a Dane
May 20, 12:00-15:30; Danneskiold-Samsøes Allé 41, Cph K; free adm; eventbrite.com
The teacher Liva Jensen helps expats to improve their accents, practise chatting, and learn common phrases and Danish customs and mannerisms. This weekly event is an exciting half-class/half-adventure. 
Showcase & Friday Bar
May 26, 15:30-18:00; Health Tech Hub Copenhagen, Hauser Plads 20, Cph K; free adm; healthtechhub.org
HTHC is a community of health tech startups determined to solve global health issues with digital solutions. The monthly event invites members to talk about what they are working on and the audience to ask questions and provide constructive feedback that can take these health tech companies to the next level.
Exploits Gospel Festival 2023
May 27, 13:00-18:00; Nørrebrohallen 208, Cph N; free adm, childofdestiny.org
Child of Destiny (aka CODE) presents her annual Gospel Festival themed 'Worship the King – a time of intense Worship of the Most High'. Attractions such as dance, drama, song ministration, and sermons from anointed speakers are planned.
Sin Toronja
May 19, 20:00-22:00; Lygten Station, Cph N; 332kr; elalexfdz.com
A rare chance to enjoy Mexican comedy in Denmark. This new show by Alex Fernández will generate both laughter and empathy due to a focuse on mental health. Is there a funny and affable side to depression? Alex tries to answer this question and many others.
Styling workshop
May 17, 17:00-19:30; Velux Auditorium, Copenhagen Business School, Solbjerg Pl. 3, Frederiksberg; free adm; eventbrite.com
Some of the most innovative and influential stylists in Denmark, Brian Keith, Samia Benchaou and Simone Henneberg, will share their personal stories and valuable insights on how to succeed in the industry.
Standup special: British Indian Buddies
May 18, 20:00-22:30; 1420 Bar, Griffenfeldsgade 20, Cph N; 90-150kr; eventbrite.com
In a world where disagreements are the norm, a Brit and Indian are here to prove that comedy can bring us together. Thomas Henry is a middle-aged British man and Ram Arangi a young Indian buck, and together they've wowed crowds in London, New York, Paris, Amsterdam and Berlin.
Transcendence
opens May 20; William Wains Gade 10, Cph K; free adm; evenbrite.com
Rayan Elnayal's exhibition invites speculation on futuristic architecture over an evening of art, discussion, and music.  Through her presentation, she hopes to delve into the historical background and contemporary contexts of speculative architecture.
Copenhagen Photo Festival
June 1-11; Festival Center, Refshalevej 173C, Refshaleøen, Cph Ø; free adm; copenhagenphotofestival.com
The largest Nordic festival of its kind is upon us. Created for raising awareness about the art of photography, there are a number of events such as talks, workshops, art tours, screenings, and much more.
Postmodern Jukebox
May 15, 20:00; Tivoli Koncertsalen, Vesterbrogade 3, Cph K; 320-1,523kr; Postmodern Jukebox
The last time Scott Bradlee was here in Copenhagen was one year ago. His show Postmodern Jukebox is renowned for improvising popular modern music into different vintage genres. All the swing and jazz fans gather at this event to have an unforgettable night.
Giveon
May 15, 20:00; VEGA, Enghavevej 40, Cph V; 300kr; Giveon Concert
Giveon, the popular American singer, has enjoyed worldwide hits such as 'Heartbreak Anniversary' and 'Fly Me to the Moon' – some of which became trending on social media platforms such as Instagram, and TikTok.
Bloom Festival
May 26-28; Søndermarken, Frederiksberg; free adm; Bloom festival
Bloom Festival celebrates nature and sciences with events featuring food, art, literature and music. The best part is it is free to join.
Rooftop Music: Jam Session w/ Marcela Ferreira
May 20, 19:15-22:00; Amagerfælledvej 108, Cph S; free adm; Rooftop Music
Get ready to groove under the stars with Marcela. Grab some food from Zoku Copenhagen RooftopDinner & Drinks and look forward to amazing views, cosy spaces, and a wonderful night. There is no need for registration as it is on a first come first served basis.
Hiding from Baba Yaga
June 1-11; Festival Centre, Refshalevej 173C, Cph V; copenhagenphotofestival.com
Created along the Yenisei River in Russia, Nanna Heitmann portrays the people and the way of living in this area where people mainly thrill-seekers live in harmony with animals undisturbed.
Atmosphere
May 19, 21:00; Pumpehuset, Studiestræde 52, Cph K; 280kr; songkick.com
Hailing from the frozen tundra of Minnesota, better known for its pop idols and drunk rockers, Atmosphere is a rap duo who "put Minneapolis Hip Hop on the map".
Arthus Fochi
May 19, 22:00; Operaen, Christiania, Bådsmandsstræde 43, Cph K, 100kr (cash only); facebook.com
Arthus Fochi is a composer, poet, producer, and researcher.