News
My ♥ CPH: "Meal breaks are so fast I feel like I'm swallowing my food whole"
---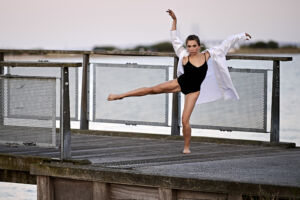 Since moving to Copenhagen seven years ago, French dancer Lauréline Epaulard, 25, has found employment at the likes of Tivoli and the Royal Danish Theatre. Originally from Rueil-Malmaison outside Paris, she has been keen on ballet since the age of seven, eventually graduating from Conservatoire National Supérieur de Musique et de Danse de Paris. Her career then took her to Japan, Paris and Bordeaux before moving to Copenhagen in 2016.
I settled in Denmark because … I'm working here, and also because I fell in love with the city.
If you ask me if it was love at first sight, I would say … Yes. I fell in love as soon as I landed. I already had friends here and I feel like French culture is very important in Denmark, so I wasn't completely lost in the city.
My favourite thing about living in Copenhagen is … the safety aspect. It's a capital city but still quite small with the big parks. I fell in love with that. And with my working conditions as well. I'm glad to be at Tivoli.
My favourite observation about the Danes is … they don't like conflicts, but because they don't like solving problems, it often results in a conflict eventually. You know, if there is something that has been bothering them, they won't say it because they won't be able to face someone or their opinion. They're going to push it to the side, but it will create a bigger problem. And then it's very hard for them to deal with that. They're not really upfront like we can be in France, so sometimes when I say something it can be a bit too straightforward and people can be almost offended. Sometimes it's funny.
Here in Copenhagen, I never get used to … the meal break being shorter than in France. There we easily take an hour and a half to eat our meal at noon. It's quite an event. While here we eat in less than half an hour, so I feel like I'm swallowing my food whole and end up returning to dancing with the feeling of having a heavy stomach.
Jeg kan tale … lidt smalt dansk. I am going to Danish school because I want to speak Danish with my partner's family, and also because I live in Denmark, so it's super important for me to make this effort: to speak the language of the country welcoming you. I like Danish and miss it when I return to France.
On an integration scale of 1 to 10 I would say I'm a … 8 or 9 because even if I feel included in my daily life, it's really hard to be with only Danish people, or to be included in a Danish group of friends. And I don't speak Danish fluently either.
I have more international friends in my social circle because… I spend a lot of time with my colleagues and I would say everyone feels international because we only speak English together. Also, all my Danish friends are half-Danish and half something else.
I think the best way of making Danish friends is … to go out and drink a beer … and maybe this is why I don't have a lot of Danish friends! Their drinking culture is very important, but I don't like it and tend to avoid it. But this, of course, is when they tend to be upfront and more friendly and open.
If I should recommend some Danish food, I would opt for … cinnamon rolls, strawberries and karrysild –the curried herring served on a smørrebrød.
The three words that I think best describe Copenhagen are … summer, safe and social. Summer's the time of year when your friends will always be up for going out to drink a coffee or sit next to a lake.
After winning a competition for young choreographers last year, her debut performance piece 'La Rencontre' is making its debut at Tivoli on May 26, where it will be staged every Friday until the end of the summer season. Concerned with human interactions, the piece explores how we discover each other, who we are, and what we like to be.