Life in Denmark
My ♥ CPH: "Being expats in Copenhagen, we have the best of both worlds"
---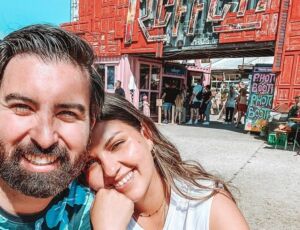 Success came quickly for María and Luis Alf, 30 and 31, a couple who "sold everything to come to Copenhagen" with their dog Rollo in March 2022 in search of adventure. Today they are respectively the managers of popular restaurants Hija de Sanchez and Nyhavn 41, and they are not planning on leaving anytime soon.
We settled in Denmark … on a hunch! We had never been to Europe before. We were kind of looking forward to just getting out of our home country to try new things, an adventure, and maybe a better quality of life. We wanted to see if Denmark is the happiest country in the world.
If you ask us if it was love at first sight or not we would say … yes. We love Copenhagen. We don't know if in another life we were born here. We have travelled to other countries in Europe – and nothing compares to Denmark, especially Copenhagen. But initially, it was not easy. We did not like the winter because it was harsh. But the summer is magic in Copenhagen. And now we feel at home here and we are not planning to go anywhere.
Our favourite thing about living in Copenhagen is … feeling safe/the Danish system.
I feel like I am free. It is such a cliche, right? But it's so true. Every single person is living their life like it was a postcard: from reading a book, or enjoying a song, it's always slow and relaxed (Maria).
The Danish system is so empathetic and not individualistic. You're just part of a whole community and you have a sense of community as well (Luis).
Our favorite observation about the Danes is … their relationships/childhood, parenting and retirement.
I really love their relationships. You can see that and we read about it as well. People have really close relationships. We would have liked to have those relationships in Mexico (Maria).
For me, it is probably childhood, parenting, and retirement. The benefits are amazing. Some 80 percent of all people in my country are dependent on the kids – here it is not the case. There are so many elderly people who are so independent. I haven't seen this in Paris, or in Germany, or in Spain either (Luis).
Here in Denmark/Copenhagen I never get used to …probably the crazy winter and the variation in light: it is like living with jetlag. Oh! And also rushing bikes.
Jeg kan tale … spansk, engelsk og lidt dansk.
On an integration scale of 1 to 10, I would say … maybe a seven or eight, meaning we can speak a little Danish and we think that's important. We really love the language and there are a lot of programs that you can use to learn the language for free, and that's amazing.
I have more international friends in my social circle because … we're surrounded by them. At the restaurant, there are international colleagues from all over the world. It is a similar case in Danish class as well. Danes are really friendly and they're open to making new friends. Probably they're more open than us? Being expats in Copenhagen, we have the best of both worlds!
I think the best way of making Danish friends … is learning the language and taking part in activities. You can go, sit down and speak for hours with someone. Like, it's not weird at all for the Danish. They're really friendly.
If I should recommend a visitor to Copenhagen then I would tell them … to just get lost in the city centre. The smaller the street, the more there is to explore. Try the amazing bread and also a hot dog. Glyptotek is one of the nicest museums we have seen. You can really see how Danes enjoy art. One of our favourite experiences has been going to the Louisiana Museum of Art. During winter, visit the Christmas markets and try glögg. Avoid Nyhavn restaurants because they can be expensive for what they serve. Avoid having regular fish and chips or burgers. Instead, try Danish schnapps and smørrebrød. The big canal tours are a tourist trap so try to avoid them.
If we should select three food and drink venues we would opt for … Reffen the big street food market. Christania for its really good concerts, music and interesting backstory. And Nørrebro's Superkilen Park. Also, visit Banegaarden for a chill time, while the Illum rooftop has magnificent views of the city.
The best places to visit on a budget are …The Little Mermaid, Black Diamond Library and Rosenborg Castle. Google a selection of museums and you'll find something for free. Also, there are always free concerts or galleries in and around the city. Take a dip in the harbour with friends or just walk along the coast for picturesque views.
The three words that I think best describe Copenhagen are … cosy, well-connected, and magical. We have been to other European capitals. But the vibe here cannot be compared!