News
Sun, samba and sprinting with our stately superiors
---
The Royal Run and Copenhagen Carnival enjoyed heavenly weather over the Pentecost weekend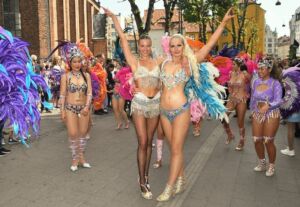 The sun is out and life in Copenhagen is blooming. For those who did not already burn off enough calories dancing the samba at Copenhagen Carnival over the weekend, the Royal Run came with perfect timing.
Royal Run a gateway for athletic newcomers
On Monday a record number of participants, 93,624 to be exact, lined up for Denmark's most important running event of the year over distances of 1.6, 5 and 10 km.
For the fifth time since its introduction, people of all age groups gathered in Herning, Aabenraa, Nyborg, Nykøbing Falster and Copenhagen/Frederiksberg to join the Royal Family on their run.
For 32 percent of this year's participants, the Royal Run was their first exercise event. The competition can therefore be seen as "an important step on the way to motivating more people to do sports and exercise", according to Crown Prince Frederik.
The Royal Run was originally organised to celebrate Frederik's 50th birthday in 2018. While the core objective was to bring the Danish community closer to the Royal Family, another aspect has become the leading motivation for its continuance: turning Denmark into a more sports-active nation.
Royals find their answer to Speedy Gonzalez
Together with their four children, the Crown Prince Couple showed up in all five host locations to show their support for the participants. Only Granny was missing: due to her recent back surgery, Queen Margrethe had to cheer on her family from home.
The youngest member of the family, 12-year-old Prince Vincent, was the first to finish the 10 km run in Copenhagen – in a time of only 47 minutes. Neither his older brother nor father could not keep up with his young athleticism, respectively crossing the line after 51 minutes, and then shortly afterwards.
To the public's surprise Crown Princess Mary did not run her usual 5 km. After participating in the one-mile race in Nyborg, she took a helicopter ride to Nykøbing Falster and joined the 5 km walk.
Although the young prince's time was shockingly good, he could not beat the winner Christian Okkels, who finished the course in 31.01 minutes. Among the women, Sylvia Kiberenge was fastest with a time of 32.50 minutes.
Bye-bye, Copenhagen. Welcome BRAZIL!
Competition was less fierce over the weekend when Denmark's capital city once again hosted the biggest Brazilian party of the year during the Whitsun Holiday. The streets of the city centre and Faelledparken were filled with parades, more than 120 music groups, and 2,000 artists dressed in colourful costumes – a tradition that dates back to 1982.
This year more than 100,000 visitors enjoyed workshops, exhibitions, market stalls and great music for free. For those who could not get enough of the partying, an after-party with bars, food stalls, and a private beach was held at Teglværket.
Although the event was originally influenced by Brazil's Samba Carnivals, you could find anything from samba and salsa to steelpan and electro music.