Life in Denmark
They make 🇩🇰 work: "I feel anybody from any part of the world would thrive here"
---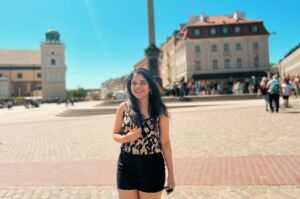 Internationals come to Denmark for all sorts of reasons. Some come for a job or because they're following their partner, others because this is how life unfolded, or simply out of curiosity.
Clearly, an increasing number of foreigners are employed in Denmark today, and in this series CPH POST will meet some of the internationals who make Denmark work.
Last year, Mayura Adya, 28, moved to Denmark from India after her boyfriend, who is now her husband, was offered a job. Upon arriving, she quickly also found employment.
Today, although it's only been 15 months, she can't see herself returning anytime soon – not when the work-life balance is this good.
Could you briefly summarise your work history?
I came to Copenhagen because my then-boyfriend, now my husband, got a job here that brought me to Denmark. Previously, I was working as a DevOps [development/operations] engineer at Accenture in India. Since we wanted to get married and move here, I quit my job as Accenture did not have a relocation policy. I settled down for a month and let everything sink in, travelled within Europe, and then started looking for jobs. And within a month, I landed the job I am working at right now: as a DevOps engineer at Ernst & Young.
What is your current job title and main duties and responsibilities?
As a DevOps engineer, my daily work is making sure that the solutions/applications we develop within our tech hub are released and delivered to the client in the best way possible – and in the most automated way possible. So nobody's spending time doing the same things again and again. In simple words, reducing all the manual effort to make sure the solution and application are available to the end-users.
Is this the career you envisaged when you graduated, or are you still gravitating towards your dream job?
So when I dreamt or envisioned what my career would be like, I started off as a software developer writing code and stuff like that. So I did my master's in India as a software developer and I was very passionate about it and good at it as well – if I may say so. But at my first company, I realised I had an inclination toward DevOps because it is a combination of development plus operations. So I could direct it the way that I wanted to.
It's said that foreign workers bring great value to Denmark – how would you assess your contribution?
As far as my experiences having interviews at a few companies, I know for a fact that there are a lot of talented people here in Denmark, but I feel they lack a lot of technical skills. I feel that Indians are very technically focused, and since there is a lot of competition in India – no matter which domain you work in – naturally you feel you have that urge to strive to learn and do more. I think that really helps here because the competition is not so great, but there is a lot that we Indians can contribute here – be it technically or otherwise.
In which areas of your job have your education, experience or international know-how given you an advantage over your Danish colleagues?
I do not have a lot of Danish colleagues; there are just one or two Danes within our team. The rest of them are primarily in sales, where Danish is a requirement. But there are a lot of talented international people. So my advantage over them would be the technical experience I guess.
Have you worked in any other countries other than Denmark?
Apart from Denmark, I have worked in India.
What's it like being a foreigner in a Danish work environment?
As I said, I do not have a lot of Danish colleagues, as they are mostly international colleagues. But there are a lot of Danish people around in the office. I would say that it is a massive cultural shift, but there is nothing negative at all. Fortunately, I have never faced any issues related to my race or skin colour – or any of those things. But I feel that anybody from any part of the world would thrive here.
How international is the culture of the company?
They are extremely international as they have people from different parts of the world. So it is not just one approach – I do not know if there's such a thing as a Danish approach! Everybody's very open to discussions no matter what it is.
Tell me three things that have surprised you the most about your working life in Denmark
The first thing is that there is no hierarchy here – at least in the software industry. I found it extremely weird that people, no matter who they are, do not have separate cabins or offices. Secondly, they are all super-approachable. They are open to suggestions and discussions. You have that freedom to speak up. So I felt that was incredible. Lastly, the managers or other team members do not micromanage anyone.
Can you tell us what you consider to be the best thing about working in Denmark?
The overall work culture is fantastic. I love everything about working in Denmark and I do not think I can go back to work in India. It is incredibly flexible – especially with the working hours. As long as the work is done, it's all good. The work-life balance is the best part.
What do you miss most about working in your home country?
I think I miss speaking the language: my mother tongue. Some bonds are easily formed because you speak to someone in your native language.
Which three pieces of advice would you give to somebody contemplating a career in Denmark?
Firstly, I would say: go for it as long as it suits your role and vision of what you want to be. There are so many opportunities here; even if you get into something that you do not end up liking after a month or two, there is someone who will help you switch. The country pays so much attention to your mental health and not just the company's growth, so no matter where you work, as an employee, you matter here. Secondly, before you jump and move countries, I would say reach out to people in your domain and see how they like it and how their experience was. Lastly, a tip: update your LinkedIn resume, use all the keywords, do not lie in it, and mention your previous roles – be it in India or anywhere else.