Life in Denmark
They make 🇩🇰 work: "No two days are the same here, fortunately"
---
This week's interviewee is Prisca Perler who in 2009 left behind a successful medical career in Switzerland to become a full-time dog walker in Denmark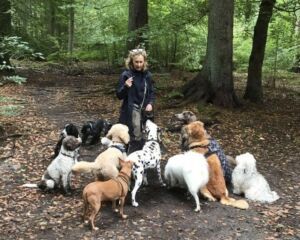 An increasing number of foreigners are employed in Denmark today: to the extent that every eighth full-time worker is an international.
Furthermore, according to a survey from Lederne, a union for business leaders, 28 percent of members wouldn't be able to run their companies without the help of foreign workers.
In this series The Copenhagen Post will meet some of the internationals who make Denmark work.
One of them is Prisca Perler, 60, who left a successful medical career in Switzerland to become a full-time dog walker and caretaker in Denmark, where she has been living since 2009. 
In a city where finding good parking is as rare as toilet paper was during the early days of COVID, Prisca drives a van to pick up 10-12 dogs from their homes to take them out for their walkies.
---
What is your current job title and main duties and responsibilities?
"I have been a solopreneur for dog walking and private care service for dogs/Eksklusivhundeluftning since 2011. I invest all my working time, energy and joy in dogs. Working with the dogs – enjoying their personalities and the way they like running freely in nature – gives me joy and the feeling of carrying out a meaningful task."
Why did you choose exclusive dog walking as a profession in Denmark?
"After more than 20 years in the medical device and medical equipment industry, I sought a lifestyle change. Before I committed 100 percent to making a four-legged-friendly company where I am mostly outdoors, I worked indoors every single day. I am a trained radiographer with a Bachelor of Business Administration and was employed in the pharmaceutical industry. First in Switzerland, where I was born and raised, and from 2009 in Denmark. During that period, I also learned to speak Danish and was integrated into Danish society. Today, I find it hard to imagine that any other job can be as rewarding as dog walking. No two days are the same – fortunately."
What are the challenges you face while handling 10-12 dogs?
"Taking care of dogs is not so much a challenge – it only becomes so when other people get involved who don't know how to act around a pack."
How difficult or demanding is your job?
"I do sacrifice my private life. Leaving your best four-legged friend to someone else is a matter of trust – especially when people are traveling. Taking care of someone else's dog is a full-time job. When I take care of them besides my own dog, there is not much time left for my private or social life."
​How good enough is the money to sustain a life in Denmark?
"If I work more than 37 hours a week, it provides a good source of earning for a decent lifestyle here."
Are most of your clients Danish or international?
"Before COVID I had many international clients, but most of them returned to their own countries with their pets. This affected my business for some time. Right now, I have 70 percent Danish and 30 percent international clients."
Is this the career you envisaged when you came here, or are you still gravitating toward your dream job?
"I had a dream job in my previous career, and it was not my plan to become a solopreneur in Denmark. But today, with what I have, I would never trade it for my previous work life. Changing my profession and becoming a businesswoman in Denmark was my best decision in life."
It's said that foreign workers bring great value to Denmark – how would you assess your contribution?
"Swiss are more service-driven and work-focused than Danes, who believe in a work-life balance. Due to my Swiss background, I represent a high work ethic and prioritise my work, which has also enabled me to make a living out of dog walking."
As an international person in Denmark, what makes you a better professional dog walker than any other Danish person?
"My approach to working with dogs has been built up over many years and is inspired by dog ​​listener Jan Fennell's work with dog language and behaviour training. But honestly, I wouldn't say that I'm a better dog walker than any Danish person. (Except for my flexibility and tolerance!) I just have a slightly different business model than most other dogwalkers, which can be useful for customers who travel occasionally and want private care for their dog while they are away. To know their four-legged friend can go out with a dog walker they already know provides security and peace of mind to the dog and its owners."
What do you consider to be the best thing about working in Denmark?
"I always felt that getting up and running a business in this country is quite easy. You have easy access to everything you need to run a business. Danes also love creativity. They always welcome a great idea and provide the space and means to build something from scratch. I also appreciate how they prioritise providing service to the community over service to the individual and how good they are at co-operation, particularly with regards to problem-solving."
What do you miss most about working in your home country?
"I would say my colleagues. I am still in contact with them, and whenever we meet, they often ask me why I did not return to my previous profession. It's hard to explain to them that what I do now is much more fulfilling than what I did."
Which three pieces of advice would you give to somebody contemplating a career in Denmark?
"Build a solid network with Danes, learn Danish, and slow down – the Danes work for a living, and not the other way around."