Life in Denmark
They make 🇩🇰 work: "It surprised me people are so protective of their need to switch off"
---
This week's interviewee is Steve Taylor, the Head of Secretariat at Copenhagen Pride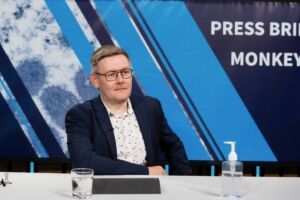 In this series The Copenhagen Post meets some of the internationals who make Denmark work.
One of them is Steve Taylor, the Head of Secretariat at Copenhagen Pride, a Brit who fell in love with Denmark's capital in 2005.
"In the past, Denmark has been described as the best place in the world to be LGBTIA+. It's one of the reasons I was coming here for 15 years," he tells CPH POST.
So when he got a job offer in Copenhagen in 2019, it was clear to him the city would become his new home.
Could you briefly summarise your work history?
"My background is in civil society, political campaigns and communications. I have worked in health, disability, human rights, child welfare and, for the last ten years, in the Pride movement. In 2019, I became Director of Communications for World Pride, and in 2022 I was hired as Head of Secretariat for Copenhagen Pride."
What are your main duties and responsibilities at Copenhagen Pride?
"Our Secretariat's role is to support a big team of volunteers who do most of the organisation and planning of our Pride events. We have our own volunteer team for each operations area: for example, culture, human rights, production, young people, children, hospitality and bars. So, our main focus is on supporting those teams and making sure that everything is in place when we get to Pride Week in August and Winter Pride in February."
Is this the career you envisaged when you graduated, or are you still gravitating towards your dream job?
"It is not what I imagined I would be doing, but communications and Pride are two passions of mine. So, in many ways, it already is a dream job."
It's said that foreign workers bring great value to Denmark – how would you assess your contribution?
"I first came to Copenhagen Pride in 2015 as a visitor. It has always been one of my favourite Prides because it is really well-organised, very friendly and a really interesting event. Personally, I have already been to around a hundred Prides around the world. So, I hope that what I have brought to Copenhagen Pride is that bigger picture view and the ideas that I have gathered all over the world. This year, for example, we will become the first Pride in the world to pivot to an all-electric parade."
In which areas of your job have your education, experience or international know-how given you an advantage over your Danish colleagues?
"I would not say that I have an advantage as Copenhagen Pride is a very international organisation. We always have an eye on what is happening elsewhere. We are very internationally-minded and always keen to look and learn from what other organisations are doing."
Have you worked in other countries than in Denmark?
"Yes, I worked as Director of Communications for a civil society organisation in Belgium, but otherwise mainly in Britain."
What is it like being a foreigner in a Danish work environment?
I think that the work environment in Denmark is very unique and different to the British one. There is a much better work balance than there is in the UK, and I have certainly felt very welcomed by my colleagues. So, I can definitely say that it is much better than the working environments I have had before.
What are three things that have surprised you the most about your working life in Denmark?
"First of all, the quality of the coffee machine, which is much better than in any office I have ever worked at in the UK. Also, the attention to the work-life balance: it really surprised me in a good way that people are very protective of their need to switch off. Lastly, these uncomfortable chairs they have here: to me they are an instrument of torture."
Can you tell us what you consider to be the best thing about working in Denmark?
"The equality of the workplace in Denmark as there is very little hierarchy – especially in a small organisation like ours that allows everyone to have much more input and feel much more valued."
What do you miss about working in your home country?
"Given Brexit has happened, there is not a lot that I miss about working in the UK."
Which three pieces of advice would you give to somebody contemplating a career in Denmark?
"Be prepared for efficient bureaucracy with government agencies: for me that came completely unexpected because in the UK everything happens very slowly and less efficiently. Do not expect anyone to do any work in July or on a Friday after two o'clock.