Life in Denmark
They make 🇩🇰 work: "It's sometimes hard to be challenged: you have to ask for it"
---
INTERVIEW: Paulina Dubas, a 29-year-old Polish freelance IT consultant engineer, reflects on what has surprised her the most about working in Denmark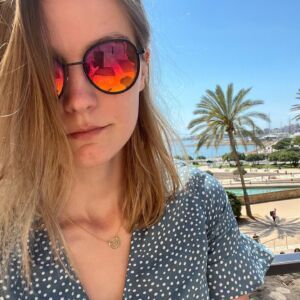 In this series The Copenhagen Post meets some of the internationals who make Denmark work.
Among them is Paulina Dubas, a 29-year-old Polish freelance IT consultant engineer within DevOps, Cloud and Infrastructure.
Dubas was first attracted to Denmark by its universities. In her case, it turned out to be a one-way trip.
Could you briefly summarise your work history?
I first came to Copenhagen as an exchange student for ten months. Then, I didn't want to go back, so I stayed for my master's degree at Danmarks Tekniske Universitet, and I found my first job here as a full-time engineer right after. All my friends had found work here as well. Before that, I worked permanently at DTU during my master's as a student assistant for two years, and at the same time I had a temporary job.
What is your current job title and main duties and responsibilities?
After my graduation, I worked for a few companies, such as Maersk, Eficode or Deloitte Consulting. Since March 2023 I have been a freelance IT consultant engineer. I'm currently working on a public sector project doing hands-on work and IT architecture design within DevOps, Infrastructure and Cloud. My main duties depend on the project I am working on, and my main responsibility is to always look for what is happening because it is a very fast-changing field, so it's important to be able to keep up and to always be learning.
READ ALSO: They make 🇩🇰 work: "It surprised me people are so protective of their need to switch off"
Why did you choose Denmark as a destination for your exchange year?
It was my first choice. I heard that the education level and universities were very good. They also tend to pursue a much more practical approach, whereas the work in Poland is rather theoretical.
Is this the career you envisaged when you graduated, or are you still gravitating towards your dream job?
I knew I was going to be an engineer. I had no clue in which field, but it came quite naturally. Also, I always wanted to go freelance and later on build something on my own. The opportunity came up, so it was a good time for trying.
It's said that foreign workers bring great value to Denmark – how would you assess your contribution?
I think it goes both ways. We get a lot from Denmark, but also contribute a lot. Of course, the international workforce often has a very different perspective because we grew up in a different environment, or in a different culture. I also contribute by volunteering for different organisations where I was teaching dancing and coding. And I was also organising events for students when I was at the university. Furthermore, I am engaged in sports – for example in triathlon.
In which areas of your job have your education, experience or international know-how given you an advantage over your Danish colleagues?
I think in all of them – because I was studying primarily in Poland and then in Denmark, and I also participated in a lot of international programs. Now I work in a very international environment, so we often need to collaborate with people from different cultures.
What's it like being a foreigner in a Danish work environment?
In general, my colleagues are very friendly. However, I think you aren't going to be fully integrated unless you know the language. I speak Danish on a communicative level, but I rarely use the language at work because it's very field-orientated.
How international is the culture of the company?
Because I am freelance, it depends on the project and it depends on the company. But for example, in the public sector there are more Danish full-time employees.
Tell me three things that have surprised you the most about your working life in Denmark.
The first thing is that people care about you to some degree. They care about your well-being. Then I think for a full-time employee, it's sometimes hard to be challenged. You have to ask for it. It is easier as a consultant because in consultancy you have to sell your skills. Lastly, directness is more common with Danes – in a good way.
Can you tell us what you consider to be the best thing about working in Denmark?
The best thing is that people care about what you say, even if you're a student assistant. It doesn't matter if you work in a higher position or if you are at entry-level. If you have good ideas, they will listen and want you to contribute. There is no hierarchy.
Which pieces of advice would you give to somebody contemplating a career in Denmark?
Try a lot of different stuff. Always be confident about your skills. And the network is your friend. You need to put yourself out there; you never know when something is going to pay off.