General
Roskilde 2023: Combustible Kendrick Lamar provides some early festival fireworks
---
REVIEW: ★★★★★☆ In the first of a series of concert write-ups live from the festival, we applaud an enchanting set at a filled-to-capacity Orange Stage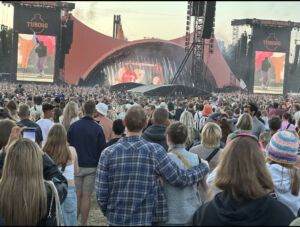 When it comes to lyrical hip-hop hits, Kendrick Lamar is in his own category: unrivalled, he's the single most dominant force in the genre.
Small in stature, with the booming vocals of a Greek mythological figure and the rhetoric to match, Kendrick has a bigger catalogue of hits than his competitors, along with extremely thought-provoking content.
Touching on themes such as mental health and fatherhood, one could pose the question: "How would this translate to a festival stage?"
Consider these put to bed.
All hearts and high energy
The concert-goers began filing in a good hour before the show and, by the time the fireworks went off to announce Kendrick's arrival, the place was overflowing with hungry music fans.
After a brief tease of 'The Heart Part V', the show blasted off with 'n95' – one of the most high-energy tracks on Kendrick's latest critically-acclaimed opus.
The beauty of the show was his ability to merge the new album with his greatest hits from past years. Some of the loudest cheers of the night were reserved for some of the smashes from the 'Damn' album. Hits like 'Humble', and 'DNA' had massive sing-along appeal.
It ended with 'Savior', which is also from his latest, and in between the Pulitzer Prize winner from Compton told a compelling story. He was a deep thinker from the get-go, but he still managed to show growth.
Ties to the city
On his latest album, Kendrick Lamar infamously refers to the girl he met in Copenhagen. And his first album features a song with a Danish sample, 'Don't Kill My Vibe'. And judging by the way the Orange Scene was packed to the brim, it's safe to say the love affair between artist and city continues.
This performance was a reimagining of his live show, but in the cool festival evening air, as opposed to his last performance in these parts on a chilly autumn show in Royal Arena. And I would venture to say that show was a tad better. It was more cohesive and scripted to perfection with dancers and actors – something that doesn't work as well at a festival.
With that minor note, this enchanting performance was the perfect way to kick off the headliner schedule. The marquee artist on the line-up brought all the tricks out of his bag to make it a memorable night for everyone.
He made it look easy.