Swiftly going viral across the world is the story of a Copenhagen-based mustachioed woman who has had enough of shaving off her facial hair to fit in.
Eldina Jaganjac, 31, a Bosnian expat who works as a tutor, told Unilad magazine that letting both her moustache and unibrow grow is a good way to "weed out" bad dates.
She quit using a tweezer and razor in March 2020, which coincided with the Danish capital's lockdown and closure of all beauty therapists.
Nobody comments about men!
"Before I let my unibrow grow out, I did feel like there were extremely limited options regarding how women were supposed to look. If a man doesn't shave or pluck his eyebrows, no-one notices or comments and it's nothing out of the ordinary," she said.
"Just like many other women, I have learned to police myself. For instance, I used to not feel comfortable going outside unless my eyebrows were an accepted small size, and I wouldn't go to the gym unless my legs were clean-shaven either."
Let them yell
Since her decision, "it was uncomfortable at first, but if some people have nothing to do other than yell at strangers, then so be it", she reflected, before concluding: "I've chose to focus less … on whether people like me or not, because I probably won't ever see them again and, if I do, I still don't care".
Her participation in the article has certainly ensured that many, many people will see her.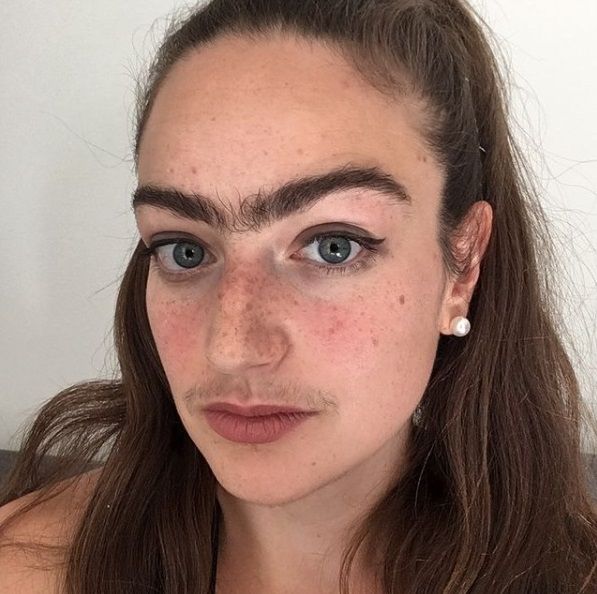 ---
Sent to prison for coughing in police officers' faces and shouting "Corona"
The Supreme Court has upheld a prison sentence of four months handed out to a young man in his early 20s who in March 2020 coughed in the faces of two Aarhus police officers and claimed he had the coronavirus. After his acquittal in a local court, prosecutors appealed and he was found guilty in the Western High Court – at which point he appealed.
Security at border with Germany tightened following local corona outbreak
Denmark has tightened its security measures at the border with Germany in response to local outbreaks. Some 13 border crossings have been closed in response to a large increase in the infection rate in the German town of Flensburg, where over 50 percent of the cases are said to be variants, and restrictions tightened at the other nine crossings. A night-time curfew has been enforced in Flensburg and all private gatherings banned.
Daily Telegraph highlights anti-immigrant tendencies of most Danish MPs
An extensive interview in the Daily Telegraph has documented the despair of University of Copenhagen student Jino Victoria Doabi, a 28-year-old international living in Denmark since she was 11 years old, who feels it is almost impossible to become a citizen thanks to the efforts of Dansk Folkeparti (DF) and other right-wing sensibilities. The article in the right-wing broadsheet portrays the government as "anti-immigrant", raising concerns that its "tough new proposals on migration could see citizenship applications from non-Muslim countries prioritised". Doabi, whose parents are atheist Kurdish refugees from Iran, told the newspaper: "It makes me feel that I'm not worth anything. I study at the finest university in Denmark and I study the hardest of everyone, and I work hard to improve democracy too, and still this is nothing – just because of where I was born." DF and Nye Borgerligeare hopeful they will soon be able to prevent immigrants from certain countries becoming citizens if their new bill to pick and choose is approved. "There are specific countries that we have had very bad experiences with: a lot of them have got citizenship in the last 40 years, and we can see in the statistics that both the citizens of these countries and their children are more criminal," explained its spokesperson Mette Thiesen.
Rich Danes among holiday-makers at luxury resort in Thailand
Several Danes are among a group of wealthy tourists permitted to holiday in Thailand, reports the New Straits Times. As part of the bubble arrangement, the tourists will be quarantined in luxury villas at the five-star Sri Panwa Hotel in Phuket, which has its own private beach. As well as Denmark, the tourists are from Brazil, Canada, France, Ukraine and the US. They will travel together on a chartered aircraft and undergo repeated testing. Upon their arrival, they must stay in their rooms for five days.
Is lack of inequality the key to Denmark's happiness?
The latest edition of 'The Agenda', the editorial of the San Francisco news outlet 48hills.org, has praised Denmark for its lack of inequality, suggesting it is one of the main reasons for its people being so happy. Referring to a recent episode of Freakonomics Radio, it asked: "What if Jeff Bezos only had $5 billion instead of $180 billion? Would all of us be happier?" And it concluded yes, adding that Denmark "has far less economic inequality. Taxes on high incomes are high. Displays of wealth are frowned upon. There's a well-funded, effective social safety net at every level. People are just less stressed." It then cited the example of a Danish resident, a British-born businesswoman, who "talks as equals with the person making her coffee at a café because after taxes we're taking home about the same amount".
DF rising star claims Denmark only joined the EU to keep up with the UK
Peter Kofod, who at the age of 30 is a rising star of Dansk Folkeparti, has told pro-Brexit newspaper The Daily Express what all their readers want to hear: Denmark only joined the EU in 1973 because the UK did so. The MEP, who sat in the Danish parliament for four years before losing his seat in the 2019 general election, said Denmark could very well follow Denmark out of the door. "Before Brexit happened, the EU system said it would be almost impossible to have a model whereby you could decide yourself who you give access to your country's social benefits … if you want to trade with the European Union," he said. "And what Brexit did was is it split these things. So you can actually decide more who you let in. You can protect your state and your social benefits. But you have the opportunity to trade with the European Union as well. And I think that model is super interesting for a small country like Denmark."
3XN unveils plans for new hub for robotic firms in Odense
Danish architecture firm 3XN has released an image (see below) of its design for a new home for two Danish robotics firms in Odense that specialise in producing cobots (robots that collaborate with humans). Mostly constructed from eco-friendly wood, the 20,000 sqm 'Cobot Hub' will house Universal Robots and Mobile Industrial Robots. Designed with a low height to fit in with its surrounding landscape, its open-plan offices and shared courtyards are designed to encourage interaction. 3XN is confident the building will be completed by 2023.