Opinion
Fashion Jam: Looking good sporting kitten heels and kettle bars
Jenny Egsten-Ericson
---
This article is more than 7 years old.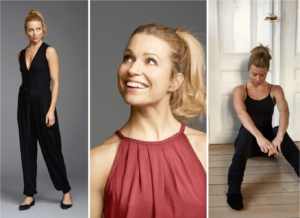 It's a new year, it's a new day, it's a new life, and we should feel good …
Get in shape in style
As it's January 2016, many of you are already several days into your new year resolutions, and as each year bring its own personal goals and challenges, none ever carry as much weight (couldn't help myself) as the old standby: getting in shape.
So now that we've put the holidays and the leftovers behind us, how are we planning to make our new routines and goals fun enough to stick to?
A fashion addict like myself naturally turns to fashion for help. Any workout will feel much easier and more doable with gear that makes you feel comfortable, holds everything in place and makes you look good whilst doing it.
This also applies to when you are having a relaxing day at home or come home from a stressful day at work. Don't just throw on your hubby's old t-shirt and a pair of washed-out sweatpants. No, make sure you have some nice home or loungewear so you can feel good and proud of your look at all times.
A Moshi monster hit
We are lucky enough to be in a country where they are really good at creating that relaxed yet stylish look. And I'm lucky enough to know two brilliant Danish women who ten years ago next month decided there was a gap in the market for just that and opened up the first Moshi Moshi Mind store.
The goal was to create a timeless, good quality design with a relaxed look and to inspire slow shopping. And even if it started out as more of a loungewear brand, it has developed into a lifestyle universe with something for every occasion and everyone: young, old, rich, poor, fashionista or someone who just wants to be comfortable and look good.
Steps kitten
While we are on the subject of comfortable, we have to talk about the upcoming shoe trends this season, and one in particular: the kitten heel. Part of the problem with the kitten heel is … how do I put this? It became a little bit Queen Elizabeth, and it's really not her job to be fashion-forward but to look nice and smart and British. And my point is that I don't want to look nice, I want to look fashionable. And until recently the kitten heel had lost its coolness.
Back in the 1950s, when the kitten was created, a tapered heel with a maximum height of 3.5cm was deemed perfect for teenage girls to practise walking in before they graduated to wearing proper heels.
But when Audrey Hepburn wore them, kitten-heel mania swept the world until they disappeared in a haze of platforms in the late 1960s. Returning, as everything does, kitten heels re-emerged in the 1980s, and then once again in the mid-1990s, staying around until the early 2000s, which happens to be the last time I wore them.
But if Kate Moss can wear them, so can I, and now it's time again.
About
Jenny Egsten-Ericson
As a Swede who spent eleven years in London and New York, coming to Denmark four years ago had its ups and downs. Having worked in fashion most of her professional life, Jenny (@jennyfashionjam) will be giving her opinion on our dress sense: the right choices and the bad ones.