Opinion
An Actor's Life: White whines 
Ian Burns
---
This article is more than 3 years old.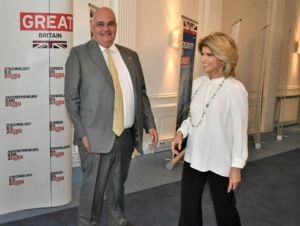 Trump will be remembered as the biggest whiner in history and its worst ever president. 
Orange is the new inmate
No, I didn't accidentally leave 'US' out … that's including Ferdinand Marcos, Baby Doc Duvalier, PW Botha, and Idi Amin.
With any justice he'll become a euphemism for deplorable human being. "You Trump!" citizens will shout and sneer. 
I look forward to the day when his stupidity, orange-ness, tweets and family members are all a very distant memory – hopefully in prison. 
Boris Johnson, 'The Lazy Etonian', will be sad to see him go as he licks his self-inflicted wounds in self-isolation. I wouldn't miss him either if he decided never to appear in public again – would you? 
He recently said he was "fit as a butcher's dog". More like "mad as a fucking hatter!" 
Double Dominic dilemma
Here's a whine of mine, although it's at the front of a pretty long queue that includes stopping adverts for all gambling on the TV and radio, giving Dominic Cummings a good smack and arresting Steve Bannon for inciting violence. 
I haven't heard one positive reason for the chaos that Brexit will cause yet (answers on a postcard please to this newspaper). 
I have an issue with the former British ambassador Dominic Schroeder – who recently left these shores without saying goodbye (hurtful) – and recently disgraced US ambassador Carla Sands (I am proud to say that I never invited her to any of my productions), who will soon be waving farewell too. 
Schroeder and Sands, who sound like a bad comedy double act, have both proved they are people ever-ready and willing to lie for their respective bosses. No doubt they will soon be spreading untruths somewhere else.  
Spluttering shambles
I went to Bornholm at the behest of Schroeder three summers ago to take part in a debate about Brexit. Little did I know that as a 'remainer', I was outnumbered three to one. 
We were asked to bring something that we thought represented the country we lived in. Kim Bildsøe Lassen, a DR TV reporter chap who was based in London, brought the front page of The Times printed on the day after the Referendum, which had one word emblazoned on it: "FREEDOM".
Dansk Folkeparti representative Søren Espersen brought a china cup and saucer saying: "No matter what happens, the English will always make themselves feel better by having a nice cup of tea." Only a cup, I thought. This Brexit shambles matey will take an ocean of tea to drown our sorrows. 
Schroeder, his diplomatic skills badly out of sync that day, brought a night-light (fyrfadslys) and accused a mainly Danish audience of "wasting the world's resources" by burning candles at 4pm on a sunny June afternoon. 
"Why do you do this?" he spluttered, putting whatever size feet he's got onto a slippery Scandinavian smørrebrød. 
My microphone was on and I said: "It's called hygge". Laughter all round, but dear Dominic didn't get the joke. 
Playing with our lives
I produced a pile of 28 Lego bricks and asked an audience member on the front row to be creative and build something that represented Europe. When she was finished, I asked her to choose one piece and to throw it away. 
That piece represented the UK, I pointed out. A piece that had chosen to no longer play with the others. A piece that lay on the floor, alone, isolated and ignored. That's the piece we have become. It is embarrassing. It is a crying shame and many people's lives are going to be ruined. 
Sadly, it will make our COVID-19 problems – thanks to its longevity, we have postponed our forthcoming production of Rub-a-Dub-Dub by Fergal O'Byrne until the spring of 2022 – look minor in comparison.
About
Ian Burns
A resident here since 1990, Ian Burns is the artistic director at That Theatre Company and very possibly Copenhagen's best known English language actor thanks to roles as diverse as Casanova, Shakespeare and Tony Hancock.