Opinion
Style Stil: Embark on a 'Bespoke Bridal Journey' because you're worth it
Sheryl Yip 
---
This article is more than 1 year old.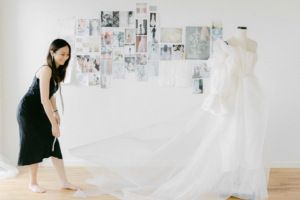 Bespoke' is a word you may have heard of in connection with wedding dresses and men's tailoring, presuming it is merely a synonym for 'tailor-made'.
But in reality, it is so much more. Opting for bespoke garments opens a magical world full of exciting concepts and beauty beyond most shoppers' wildest imaginations.
Join me,  a bespoke wedding gown designer, and let's open the wardrobe door and embark on a  bespoke journey together. It will be worth the while, I promise.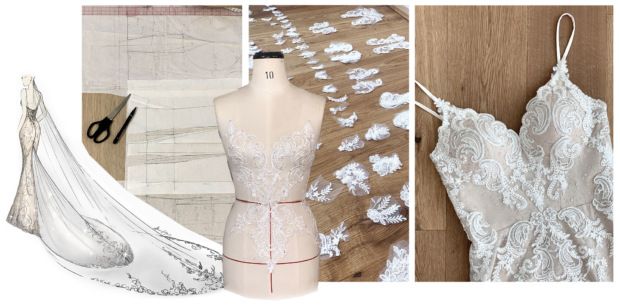 Custom-made, broken down
All garments bought from stores tend to be off-the-rack/ready-to-wear. Normally in standard sizes, such as EU 34, 36, and 38, you simply pick it out and put it on. If it fits, more or less, you purchase it, take it home. It's easy and fast. 
But for special clothing for special occasions, the wait is worth it. That's why we opt for customised clothing, and there are several sub-categories to consider:
Made-to-order – when the design is on the rack and ready to be ordered to the closest standard size against yours. You will highly likely need an alteration as the fit is not customised to your body measurements – especially skirt hemming. The design is restricted and standardised regarding colour, style and fabrication. This is common with many bridal designer brands. 
Made-to-measure – when the dress is made according to the client's measurements using a pre-existing design and pattern. When purchasing a 'made-to-measure' gown, the pattern is modified according to the bride's body shape. The same dress pattern will be altered to fit many different clients who like the same design. Hence, the design of the gown is not exclusively for one specific bride.
Bespoke – when the gown or garment has been drafted according to the client's measurements and is unique to that particular client. Instead of an existing design and dress pattern, there is no template for the dress. In other words, a bespoke gown is made from scratch – everything is made especially for you.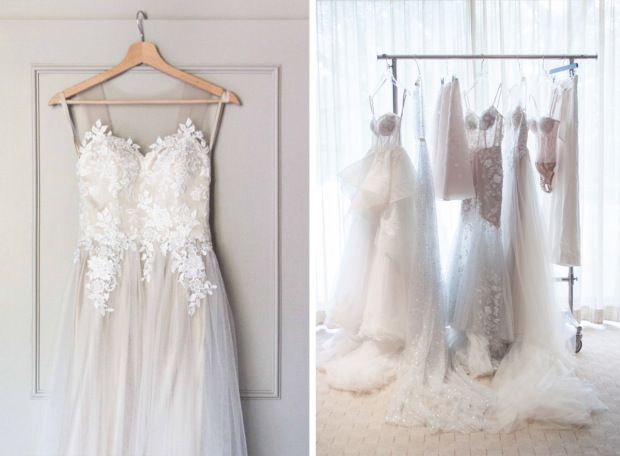 Five-step bridal journey
Bespoke is not only about the final end product, but also the unique journey and experience with the designer: how you enjoy the beauty and excitement of a creation from 'zero' to 'one-and-only'. At my atelier, I called these months of process the 'Bespoke Bridal Journey'.
1/ Holistic consultation – this is arranged to discuss and understand the bride's preferences and personality. Gown functionality as well as the wedding venue will also be taken into account to create a holistic design that fits the bride. The bride will then try on different silhouettes to explore what shape and material match her the best. This real-life experience will enable a better visualisation of what style of dresses look flattering. Depending on the design, I usually take 30 measurements. Different fabrics will also be showcased so the bride can assess their texture. In my experience, brides tend to choose the fabric they like at the first meeting.
2/ Visualisation – my secret for winning approval for my gown designs without too much uncertainty is (ssssshh!) not solely relying on sketches or 3D images, as most designers do, but actually draping the selected fabric on a mannequin. Hence, brides can better visualise the gown before it is made. 
3/ Fitting and mock-up – a gown sample is sewn up according to the bride's measurements using a substitute fabric with similar properties to the intended fabric. The purpose of this is to ensure the fit and seam line look good on the client. This fitting session is exclusive to bespoke. For men's tailoring, a basted suit will be fitted with the same purpose. 
4/ Details and handcraft – some of the designed gowns require appliques of laces and draping. These are the unique details that ensure the gown is not a replication. All the draping details and lace artworks will be hand-stitched on the real gown for the bride's final fitting.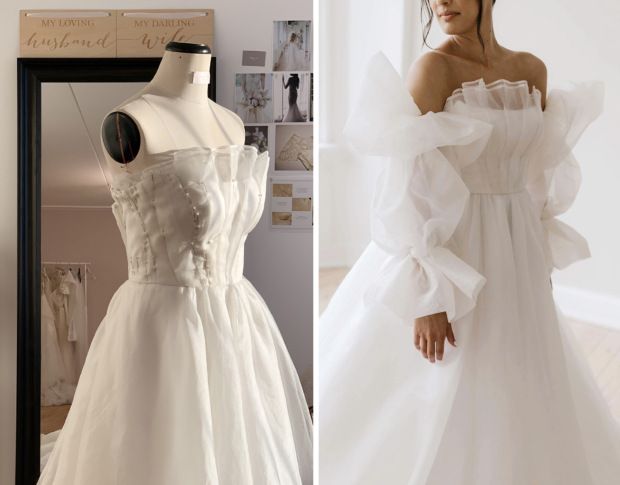 5/ Final fitting – the production of the real gown and veil pairing can proceed ahead of the final fitting. Any minor size alterations will be made, especially in the waist area. If it is a strapless gown, a nice fit around the waist is critical to avoid any wardrobe malfunction.
So why choose bespoke?
Choosing bespoke ensures a one-of-a-kind wedding gown with boundless design, exclusive comfort, and a perfect fit for your body. Every single design and pattern is made exclusively and customised to you.
I love designing bespoke gowns for brides because no woman is the same. I believe customisation is a way to empower and highlight a woman's femininity and confidence. It's also perfect for brides who don't want to be a 'princess' and instead embrace their individuality.
Ultimately, it is all about the 'fit': the originality of the design to fit your style and taste, along with the customised cutting and silhouetting of a one-of-a-kind dress for your special day.
It is time to unlock your wishes and explore your own bespoke journey. Let's dream big and realise together a memorable design and experience.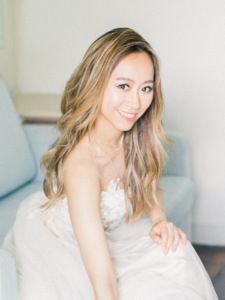 About
Sheryl Yip 
Sheryl is the fashion and bespoke wedding dress designer at her own Copenhagen-based atelier, @sherylyipbridal. Her designs have been worn by hundreds of brides around the globe. Passionate about couture and customisation, she believes dressing well-fitted to personality and body-figure is the strongest fashion statement. Following her relocation from Hong Kong in 2019, Sheryl lives in Copenhagen.