Opinion
ArtWise: Celebrating the contributors behind the canvas
Maria Dubin
---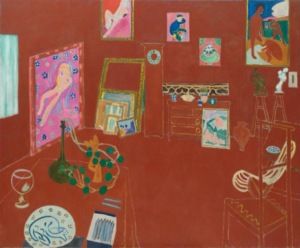 The National Museum of Art (SMK) has one of the largest collections of Matisse's work outside of France.
The Danish businessman and collector Christian Tetzen-Lund had, until 1924, one of the world's most important Matisse collections in his private home in Copenhagen.
Later they were bought by Johannes Rump, which together with a grant for the purchase of contemporary art was donated to SMK in 1928. Now, they form a very important part of the collection.
The role of the collector
It is always very fascinating to examine who the collectors of Matisse's work were: the Danes (Tetzen-Lund and Rump), the Russians (Sergei Shchukin and Ivan Morozov) and the Americans (the Stein Family and Etta Cone), to mention the most prominent ones.
But would many of the great artists we know today have been visible without the collectors?
Etta Cone, one of Matisse's ardent patrons, once complained about swelling prices, saying: "M. Matisse, I helped to 'make' you." Matisse cheekily replied: "No, Mme Cone. I made you." Cone's large collection is in the Baltimore Museum.
Peggy Guggenheim, another avid art collector, had a vast number of Jackson Pollock paintings. When she left New York for Venice, she contacted all her friends to ask if anyone would like to have some of them. She ended up having to bring them all to Venice, since none of her friends were inclined to receive these very large works. I am sure SMK would have liked to have one or two.
An artist's many homes
With a loan from Peggy Guggenheim, Jackson Pollock and Lee Krasner purchased a small homestead overlooking Accabonac Creek in the Springs East Hampton. They paid back the loan through paintings. Their studio and home are a museum now, and many a painter has made the pilgrimage to both be in and soak in their former working space.
I have had quite a few studios in different places, such as a palace in Tunisia, the old Zars horse stables in Sofia, a crumbling loft in Williamsburg, NYC (before it was cool to be there), a meatball factory in Vanløse and an abandoned military base in Nis, Serbia to name but a few.
The studios were in connection with a specific project created in each country. This summer I completed my latest series of paintings, 'The Tunis Trees', in a communal painter workshop in Christiania.
And right now, I´m an artist in residence (AIR) at the DUPLEX studio in Lisbon.
A labour of love in Lisbon
DUPLEX was an old furniture woodshop in the extremely charming area of Graça in Lisbon. The artist Susana Rocha found the space had been abandoned for more than two decades and had the courage to fix it up and create a shared studio space.
There are two floors: the top floor for permanent studios and the ground floor for AIR, where we are six artists presently and a curator. A few days before arriving we were informed about who would be attending the residency, and that there would be an open studio and exhibition four days after our arrival.
The Scandinavian crew
This didn't put the Scandinavian group of two Danes and a Norwegian off. After saying hello, we rolled in our heavy loaded suitcases.
Erik Dæhlin from Oslo put on his white gloves and brought out some very fine prints, wooden arms and telescopes.
Matilde Bjerre had a sewing machine in her suitcase, as well some old work cloths and pre-sewn work, and started sewing with the speed of a racecar.
I hurried off to the Bordallo Pinheiro Garden and found a voluptuous mermaid and made a series of sketches of her. I decided to incorporate a monumental homage of her with all the Tunis and 'Tactile Metamorphosis' prints I had brought with me to give it a Lisbon touch.
We were in a hurry and worked very long days, helping each other with holding ladders, finding installation materials – the lot. The others had been there a bit longer than us and seemed a bit surprised about all the commotion since all they needed was to dust their workspaces off.
In the end, the Scandinavian group´s work complemented each other well. We were all ready in time for the opening and able to greet a large group of mostly young artists, art students and quite a few funny looking dogs too.
---
The Red Studio
Up and running now until February 26 there is an outstanding show at the National Museum of Art (SMK): 'Matisse: The Red Studio'.
The show is organised in collaboration with the Museum of Modern Art (MoMA) in New York where 'The Red Studio' (1911) is part of their collection. The painting depicts Henri Matisse´s studio in Issy les Moulineaux. There has been a vast hunt to find every single painting, sculpture and object included in the painting – it is thrilling to see 'The Red Studio' come to life.
The painting´s surface is saturated with a red terra de sienna. However, the exhibition scenographer did not paint the walls surrounding the painting in the same colour, which would have given warmth and depth. Nevertheless, it is not a show to be missed.
---
Work in the DUPLEX Show
Erik Dæhlin installed his piece 'Double Portrait Oslo – Castro Marim' outdoors where it worked perfectly in the raw outside space. "I wanted to relate the old technique of stereoscopy, a pre-digital virtual reality device and thus a way of teleportation, as well as sensory apparatus giving you almost haptic experiences," he explains.
Matilde Bjerre's 'Slideshow 2' floats intriguingly from the ceiling. "My artistic practice involves performative actions, installations, as well as video-editing and quilting understood as narrative methodologies," she explains.
My 'Portuguese Mermaid' joined forces with 'The Tunis Trees' and 'Tactile Metamorphosis' (prints of my textile paintings).
About
Maria Dubin
Maria is a Danish-American artist known for her monumental site-specific works. She is presently completing 'The Secret Garden', a permanent artpiece comprising paintings, floor decoration, paravants, light, colour and film for the radiation therapy department at Rigshospitalet. Find out more at mariadubin.com