News
My ♥ CPH: "Knowing that everyone has a baseline of what they need is such a relief"
---
Abby Wambaugh is one third of the trio who each week give us the Coping in Copenhagen podcast. As her answers reveal, she knows this city well: as a parent, canal tour guide and lover of French fries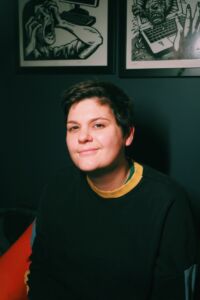 Abby Wambaugh is a writer and comedian from the United States who co-hosts the podcast Coping in Copenhagen. She has been living in Denmark for five years. We asked Abby her views on life in Denmark.
I settled in Denmark because … my partner's Danish and I have two Danish children and Denmark is a very nice place to have Danish children.
If you asked me if it was love at first sight … I'd say maybe with my partner. I was immediately very attracted to him; Danes are a good-looking bunch. But not really with the country. I wasn't really interested in Denmark at all before I moved here, and then when I did it was cold and too dark until it was still pretty cold but too bright – and there is not even one mountain in this place. So I don't know how you're supposed to love it at FIRST sight. But it has definitely grown on me.
My favourite thing about living in Copenhagen is … having all of my basic needs met and having the basic needs of almost everyone around me met all the time. Just knowing that everyone has a baseline of what they need is such a relief.
My favourite observation about the Danes is … I have a friend who uses a seeing-eye dog and he follows every single rule to do his job and keep her safe until it's playtime. This is what Danish people are like! They will follow every single rule, but then if you like, let them off the leash, they go nuts and explode fireworks at each other and eat breakfast candy and get drunk and/or sleep with their co-workers for an entire month of the year. There is this absolute (and kind of insane) abandonment that they go for things with when they feel it's allowed.
My favourite thing about the Danes is … people don't think hobbies are embarrassing here. You're allowed to have these playful desires and interests and pursue them just for fun, whereas I think in a lot of places in America, there is a hustle culture where, if you're not getting paid to do it, then you shouldn't do it unless you are a child or retired from all your serious work. Here it's really nice to see adults pursue interests and try new things out.
Jeg kan … godt tale dansk, men det gør mig træt. I speak Danish but mostly with my kids and their friends because if I have to talk to adults, I fall into a coma afterwards. It's exhausting. I'm at a level of fluency where it goes great if somebody speaks to me in Danish and I speak to them in English. That way we all feel like we can express ourselves fully and I don't have to think of the words for 'wind-energy' or 'midterm elections' or some other crap grown-ups want to talk about. But I'll play Barbies or Uno in Danish all day long.
On an integration scale of 1 to 10 I would say I'm … a seven. I can participate in this society in the language. I feel begrudgingly fond of Danish culture, and I feel it belongs to me in a way that I didn't necessarily get to choose, but I do love it … like a sibling. I miss things from America: bagels, small talk, houses with junk on the lawn. But I feel so grateful for everything Denmark's given me – especially the time and family support to pursue a career in the arts. I feel so Danish when I'm in America and so American when I'm in Denmark.
I have equal Danish and international friends in my social circle because … I do comedy in English so that is mostly international folks, but my family here is Danish and I have really great Danish neighbours. I moved here for brief stints a couple of other times and struggled to connect with Danes. But when we moved here this time, our building was brand new, so everyone moved in at the same time and it was normal to introduce yourself to people you didn't know. It was a dream scenario for making friends in a place where it feels like most people have had the same buddies since they were 15. In general, it is easier for me to make a fast connection with other immigrants, but most of the people I really count on for help grew up in Denmark. Danish friends are great once you get them.
I think the best way of making Danish friends is … give birth to them. I am two for two in making Danish friends this way. Or meet them in another country. Danes who travel are some of my favourite people in the world: goofy, warm and curious.
I would recommend a visitor to Copenhagen to … take a canal tour! This is the best. You can see so much of the city while you sit on your butt with a beverage of your choice. I take my friends on the ones without guides now, and I give my own canal tours because I've been on them so much. I love them.
If I would recommend three food and drinks venue, they would be … Injera in Nordvest for Ethiopian food. It's so good. La Glace: I always bring visitors for cake and unlimited hot chocolate. It's very fancy and there are really good window displays and a to-scale dollhouse of the bakery in the window. The Queen has been there, so this one is a big hit with us monarchy-free Americans. And The Sixteen Twelve on Jæggersborggade: there is this thing with avocado and a turmeric egg and pickled stuff on sourdough bread that I can't really make sound good, so you just have to trust me.
The best places to visit on a budget are … Atlas Pizza Kebab on Tomsgårdsvej. The falafel and kebab are good but most importantly the best French fries in this whole country are there. I am serious – I have done the research.
The three words that I think best describe Copenhagen are … comfortable, pleasant and flat.