Opinion
One step ahead
Vivienne McKee
---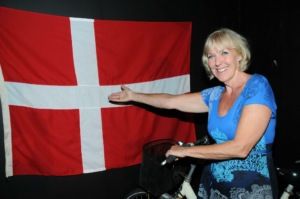 This summer has thrown up many challenges, particularly for those who planned a Mediterranean holiday with dreamy azure skies and turquoise waters.
We've had blistering temperatures, airport delays, flight cancellations and packed terminal buildings – where for some the word, "terminal" took on a new meaning.
Then came the wildfires ,which for some were life-threatening, while for others, simply blotted out the sun and covered the outdoor furniture with ash.
One day an eye-dazzlingly blue sky, the next it was like wintry Copenhagen, but this time to be endured with temperatures of 40C .
If all this wasn't bad enough, I had an even bigger summer shock. We arrived on our Greek island and enjoyed a swim in the sea, dinner at the water's edge and a stroll through pines to our holiday home.
So far, so good. However, within minutes of entering the house, I tripped over an unnoticed step . A nasty fall that broke a bone in my foot and would re-shape my holiday and transform my life for months to come .
I could no longer go to the beach or swim, and the house, aside from its antique grandeur, had no air conditioning.
When the final day arrived with scorching heat and smoke drifting over from the fires, I hobbled painfully down to a water taxi using, what can only be described as, World War One crutches bought at the local pharmacy.
During the 3 hour taxi ride to Athens our taxi driver sang Greek songs and shrugged at the dramatic fire-fighting happening around us.
"It happens every year, " he said .
At the crowded check-in I had my first experience of wheelchair service. The SAS staff said to my friend, "Can she get on the plane by herself?" I put my hand up and said, "I am here, I can hear you, and the answer is NO."
I quickly discovered that in a wheelchair, people look down on you and in more ways than one .
Back in Denmark, knowing that a visit to the Emergency Department has to be within the first 24 hours, I thought I might get away with bending the rules with "a few extra hours".
But, imagine my embarrassment, when the nice Danish doctor told me that she'd been following me and my accident on Facebook and knew exactly when it had happened .
So now armed (or is that legged?) with crutches and a support boot, I can possibly still do my Stand Up Show (albeit sitting down) and if I do, I will certainly praise the Danish Medical System for its kindness and flexibility.
On November 14th we present the Premiere and celebrate the 40th anniversary of our Crazy Christmas Show in Tivoli.
For 39 years I have opened the show in spectacularly high-heeled shoes. This year I will be wearing flat, "fodformet" Ecco shoes borrowed from the Danish character I play every year – good old Dr Bent Van Helsingør from Elsinore.
A Femme Fatale with Chunky Footwear? Not to be missed!
About
Vivienne McKee
Vivienne McKee, Denmark's best-known English entertainer, is this country's most beloved foreign import. For over four decades, hundreds of thousands of Copenhageners have enjoyed her annual Crazy Christmas Cabaret show at Tivoli, marvelling at her unique, wry Anglo wit and charm.