Opinion
Burnt basmatis, tarama dip and baked salmon
Marius Lathey
---
When your only option is a standard Danish joint, where do you get the 'best average pizza' in Copenhagen?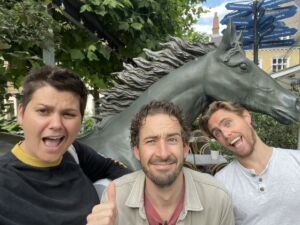 Pizza: is there a more practical and potentially delicious dinner? Especially in summer when we venture outdoors to eat, it comes with its own plate and if the slices are cut correctly then you don't need cutlery.
The average Dane eats 23 kilograms of pizza a year, making us one of the world's leading countries when it comes to pizza consumption.
Since my introduction to the pizza (March 1990, Tingbjerg, DK) I have been known to let a slice or 2,678 pass my defences. I don't know how many hours of pizza eating that comes to, probably below 10,000 hours. So I'm no expert, but I feel confident enough to venture some hot tips for getting pizza in Copenhagen.
This is not another 'Where to get the Best Pizza in Copenhagen' column. I'm sure that most of us know by now that Bæst can boast Europe's 4th best pizza, if you fancy a sourdough pizza then Surt in Vesterbro is the place to go, and if you panic when the pizza isn't organic, then Neighborhood on Istedgade is your best bet.
But we can't always expect that our pizza parlour will have a stone oven or its own buffalo in the back, lactating milk for the mozzarella.
The best average pizza
This is a guide for when your options only allow for a regular Danish pizzaria: your standard pizza joint where the lighting is often sterile and if there is any colour, it's some tacky cartoon of a Super-Mario-esque Italian, peeping out from some crudely-drawn exposed brick.
Here you can be lucky and find a decent enough Pepperoni pizza, the blandest margherita you'll ever eat or the classic shawarma pizza with lettuce and crème fraîche dressing. Check the lettuce first.
If it's a really traditional Danish pizza place, you can get a disgrace of a pizza featuring cocktail pølser, bacon and strips of ham called 'The Dane' or named after some rando called Kenneth. Why is it always Kenneth? I don't recommend trying 'The Kenneth' and in my opinion putting cocktail pølser on pizza is borderline cultural appropriation.
The golden rule
With that in mind, the pizzerias I avoid are those that try to stand out by offering a combination of different countries' cuisines.
Your 'Thai, sushi and pizza', 'Indian, Greek and pizza', or even the 'shawarma, burger and pizza' joint.
I understand that businesses must try to stand out. Especially now that consumers are used to having all options available. But even a master chef would struggle to make a scrumptious moussaka while whipping up a hot jalfrezi and delicately hand rolling some maki.
You risk cross-contamination. Your pepperoni pizza could come out covered with burnt basmati; you might get tarama dip and baked salmon on your triangle of delight. Wait… does that actually sound good? Stop, it's not!
Studies show that humans are terrible at multitasking. Therefore it has become a rule in my life that I will only buy pizza from a place that just does pizza. It doesn't only apply to pizza. Here are some other examples of where a split focus affects the quality.
Your ear, nose and throat doctor; think of the potential cross contamination there!
Have you tried the coffee at a proper Danish bodega? That lukewarm brownish water that's been simmering for days? There's a reason it should only be used for Irish coffee, if anything at all!
Heck, I'd turn down a threesome just because I wouldn't know on whom or what to focus my attention on. I'm sure that just results in a lot of movement and very little satisfaction for any of the parties involved.
Variety may be the spice of life but it is only good if we give it the attention it needs.
Guide: The best average pizza
As you can tell, I frequent both the stone oven and the less-than-gourmet oven and I have my go-to spots around town. Here are a few worthy mentions for the above standard Danish pizza experience:
Armandos – Jyllingevej 32
They offer seating and the best pizza on the menu is with mascarpone crème, cheese, mixed mushrooms, pine nuts, truffle sauce, parmesan and pesto.
Rosetta – Nordre Frihavnsgade 18B
You can buy slices and a full pizza and the flavour profile is pretty advanced for a bunch of blue-eyed younglings who bought their go-to pizza spot and made it their own.
Pizzeria La Fiorita – Charlotte Ammundsens pl. 2, kld
This is an old favourite of mine, where the presence of real Italians hint at authenticity. The pies and pasta dishes are above what most manage and it's always busy.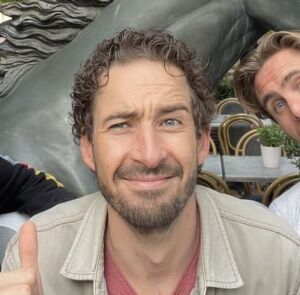 About
Marius Lathey
Marius Lathey is a Danish comedian who co-hosts the podcast Coping in Copenhagen.