A third? A half? What on earth!?" I muttered when I discovered last year that society wastes between 33 and 50 percent of all food produced on this planet. That's between 1.2 and 2 trillion kilos of wasted food every single year.
No wonder we have created all these social and environmental problems for ourselves.
As I started diving ever deeper into the issue of food waste, it became apparent that food waste organisations and politicians had tacitly agreed that it was mostly the consumer's fault. We are the ones to blame for this disaster!
Ever the skeptic, I wondered: "What about the places that sell us all this food? What role do supermarkets play in this issue? Are they generating waste? What do they waste the most? How much? How often?" And just like that, 'An Urban Harvester' was born.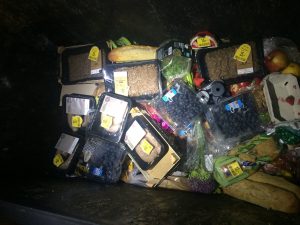 My first urban harvest
On a drizzly, autumnal evening, I packed my gloves and headlamp, donned my rain clothes, and jumped on my bicycle to go and investigate my local supermarkets – around the back.
Discreetly, I parked my bike against a mountain of green Arla milk delivery crates, opened the lid of the first dumpster before me, and peered down. 
An absolute treasure trove met my eyes: South African blueberries, Dominican Republic bananas, Chilean lemons, Danish pigs raised on Brazilian soya beans! I was in business. Average Danish temperatures over the winter months would also make for optimal food preservation – like a giant outside fridge.
Whenever I had time, I would cycle by my three local supermarket dumpsters, carry home what I could manage, take a photo, and share it with the world on Instagram. By posting my urban harvests on social media, my hope was to bring all these food waste statistics to life!
A year on, it is safe to say that I am shell-shocked by just how much perfect food these businesses dump out daily. Given I harvest by bicycle, it's worth emphasising that my photographs are only the tip of the iceberg, particularly as I focus on just three of the country's 2,800 stores.
Every year, Danish supermarkets throw out 160,000,000 kg of food. Most of it is out of sight and so out of mind – and, crucially, public awareness.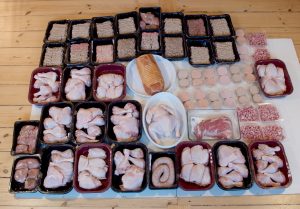 Greedy pricing
My deduction is that supermarket bosses are overcharging consumers by maintaining too high a price on soon-to-be-expired products relative to demand.
How much of the meat banquet I harvested on one memorable day would customers have bought if products had cost 30 percent of the original price rather than just reduced by 30 percent at the death? Why send still-edible food to the incinerator when, at the right price, it could be eaten?
No number of NGOs, WeFood stores, food banks, Too Good To Go apps, and royal events can solve the scandal of commercial food waste. The only way to end the madness is by economics.
It is high time that supermarket food waste went from being merely immoral to illegal, so that food is sourced, ordered, and priced in a sustainable and fair way.
See some of Matt's dumpster finds in the images below: