Every summer since 1979, Copenhagen Jazz Festival has been a yearly landmark of the European music calendar, spotlighting new departures in jazz from Scandinavia's rich vanguard scene and beyond.
The modern summer jazz program is staged in the city's cafes, bars, legendary concert halls and open-air night venues. Propelled by Copenhagen's unique jazz history, the standard is exceptionally high.
From New York to Copenhagen
In the 1950s and 60s, Copenhagen became a hotspot for American jazz icons like Dexter Gordon, Kenny Drew, Ben Webster, Stuff Smith, Stan Getz, Ed Thigpen and Thad Jones.
They adopted as their base the now-legendary club Jazzhus Montmartre – still a landmark of the contemporary jazz scene and a must-visit during the Jazz Festival.
Even before its formal conception, the term 'Copenhagen Jazz Festival' was being thrown around in the mid-60s to refer to a summer concert series that drew names like Thelonius Monk, Miles Davis, Sonny Rollins and Lee Konitz.
Meanwhile Danish musicians Niels-Henning Ørsted Pedersen, Alex Riel and Palle Mikkelborg were breaking onto the international scene, cementing Copenhagen as a nucleus of jazz culture in Europe.
The contemporary scene
Today, the grandest spots – the baroque-era Royal Theatre, stunning National Opera House, and the Jean Nouvel-designed DR Koncerthus – host the big bands and big names (Herbie Hancock was slated to play at Koncerthuset this year but dropped his entire European tour).
Meanwhile, Copenhagen's off-beat crevices are just as lively. With snatches of jazz seemingly emanating from all corners, any cracked window, door left ajar or lone smoker standing by a suggestive-looking building façade is lent an aura of mysterious speakeasy potential.
With that in mind, you're sure to catch some gems even if you improv your itinerary – but see our Top Picks on the following pages, and a spectrum of listings on pages 6 and 7 to get an overview.
On page 3 we talk biggest jazz influences with New York-trained Copenhagen bassist Klaus Nørgaard – whose poetic first record DR Radio dubbed "bubbling and boiling".
Plus, get under the skin of the festival on page 5 with insider tips from musicians and venue owners on how to make the most of this year's extended program.
Genre-bending program
A few special themes will feature in the festival: Something Else, a series of genre-challenging events; Future Sound, gigs at the intersection of modern electronic music and acoustic jazz; and Børnejazz, jazz for kids.
There's something for aficionados, families, traditionalists and new listeners alike. Keep your ear to the ground for unpublicised, last-minute gigs and enjoy the energy of catching one of Europe's greatest jazz cities in full bloom.
"The air was soft, the stars so fine, the promise of every cobbled alley so great, that I thought I was in a dream." – Jack Kerouac, 'On The Road'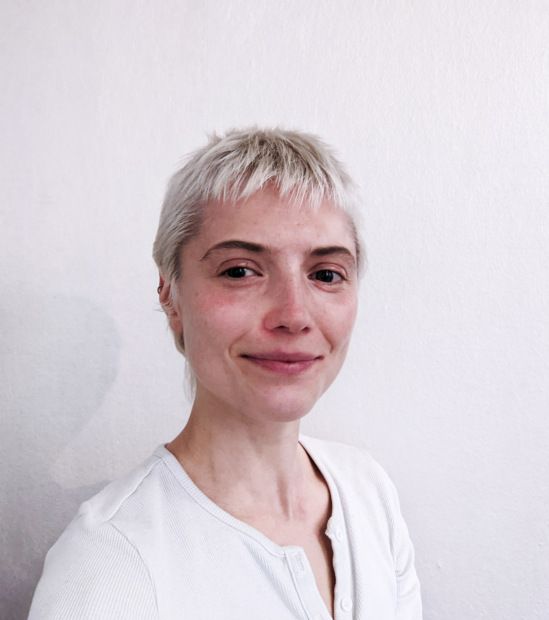 Lena Hunter, Jazz Mag Editor
---
Check out our complete CPH Jazz Festival guide here, which has a unique backstory to its Cover photo: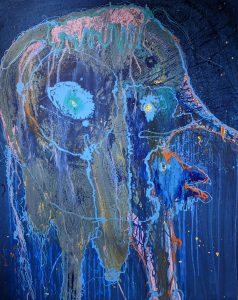 'Supersonic' (2021) by Lasse Riisager
150 x 120cm
Mixed media on canvas
"Every picture speaks of an emotion based on my own mood and feelings at the time," says Lasse Riisager, gesturing around his atelier. The basement studio is a candy shop of large-scale expressionist works in kaleidoscopic colours: royal blue, banana yellow, moody green, iridescent pink and tendrils of black à la Mondrian's 'Trees'. Some contain discernible creatures – birds, horses, people – and others are pure abstraction.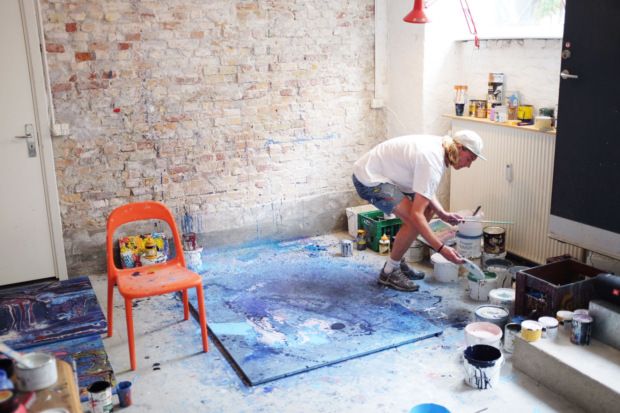 Abstract Expressionism and jazz are deeply connected, evolving concurrently in the 1950s and both using artistic improvisation to transmit emotion. The revered Dutch painter Willem de Koonig even compared the two disciplines directly: "Miles Davis bends the notes. He doesn't play them, he bends them. I bend the paint."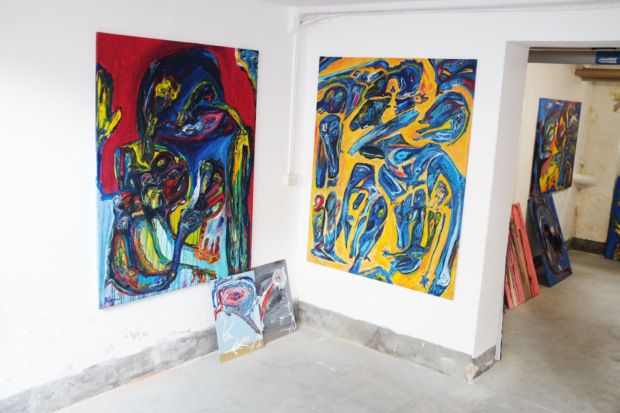 Lasse's work borrows from the same impulsive style inherent to jazz and abstract art. "I didn't always paint like this – one day out of frustration I started using my hands directly on the canvas" he says. 'Supersonic' is one of these new departures. "It's an explosion," he explains – though Rorschach-minded viewers will spot the hallucinations of faces and figures. "Supersonic is about awe – that expansive, explosive feeling."
Visit Lasse at Dybbølsgade 34, Vesterbro, or via @lasseriisager or lasseriisager.com