Apparently, having a highly developed society and a government lauded for its COVID-19 response are two key ingredients to avoiding a bleak outlook on the future.
According to a new report from EU research agency Eurofound, Denmark and Ireland are the most optimistic countries in the EU – prior to and during the COVID-19 pandemic.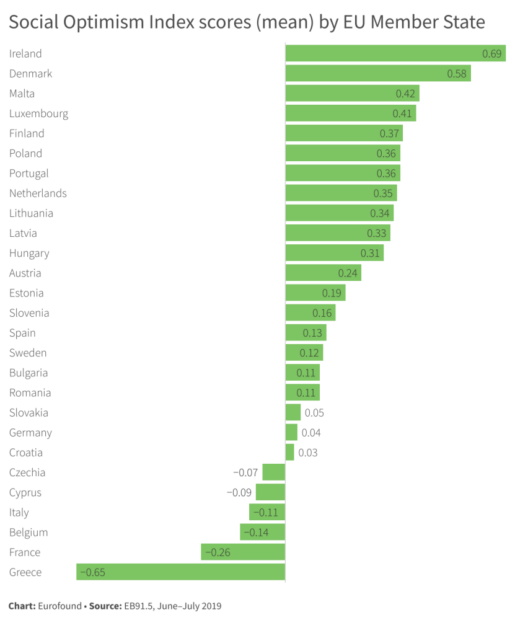 Eurofound's new Social Optimism Index ranked Denmark second to Ireland based on the measurements of six indicators among people in Europe (see image above).
"Separate research from Eurofound based on the 'Living, Working and COVID-19' e-survey have further substantiated the position of Ireland and Denmark as the EU's most optimistic countries, and the resilience of this optimism to the COVID-19 pandemic," Eurofound wrote.
"The pan-European e-survey showed that in July 2020 Denmark had the highest proportion of people expressing optimism about the future (71 percent), followed by Ireland (63 percent). Denmark also had the highest level of life satisfaction. Greece recorded the lowest level of optimism (34 percent), and the second-lowest level of life satisfaction."
READ ALSO: Denmark ranked first for digital quality of life 
Fewest pessimists 
As part of its e-survey, Eurofound also discovered that the Danes had the lowest proportion of pessimists in the EU.
Out of all the EU member states, only Cyprus, Czech Republic, Belgium, Italy, France and Greece had more pessimists than optimists (see image below).
Download the entire Eurofound report here.