Over the next two to three weeks we are going to see a lot of pumpkins in the supermarkets! But remember to stock up well in advance of Halloween, as they can be hard to find in the last week of October.
It can be a bit overwhelming cooking with such a big vegetable, but once you've got someone to carry it home for you, and deseeded and chopped it into pieces, then you are ready to roast, fry or puree it and use it in a few budget-friendly, hearty meals. 
Use it in salads, soups and, of course, sweets: pancakes, muffins, pumpkin pie or even in your smoothie.
And when you are done with the flesh, you've still got the seeds, which are full of protein, as well as magnesium, copper, iron and zinc. However, that requires quite a bit of patience, which I only have a spoonful of, but if you have time for it, there are great tutorials on how to shell the seeds online.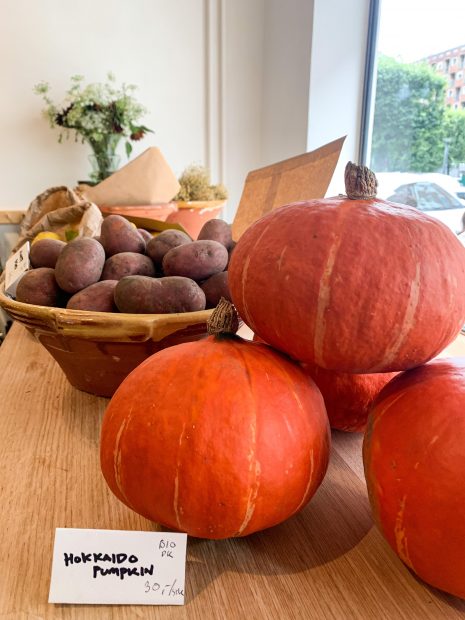 Time to pimp some pumps
Sweater weather is approaching, so the logical choice for a recipe to go with this column might have been some heart-warming, comfort food. Pumpkin pie was the first thing that popped into my head, but who am I kidding? The chance that I'd actually make a pumpkin pie is 0 percent. 
It's a bit old school; I want to feel inspired by new ways to cook pumpkin, and I haven't seen many places that serve pumpkin dishes or dessert. The exception is my sweet Japanese baker friend Keiko (@keikoscakesforhappiness), who supplies cake and dessert catering to cafes and restaurants. 
Together with Kiosken på Odden, she was having a pop-up event at Studio X Kitchen (Dronningens Tværgade 50, Cph K) and guess what was on their menu? Pumpkin crème caramel, Keiko-style pumpkin pie, and pumpkin and chocolate roll!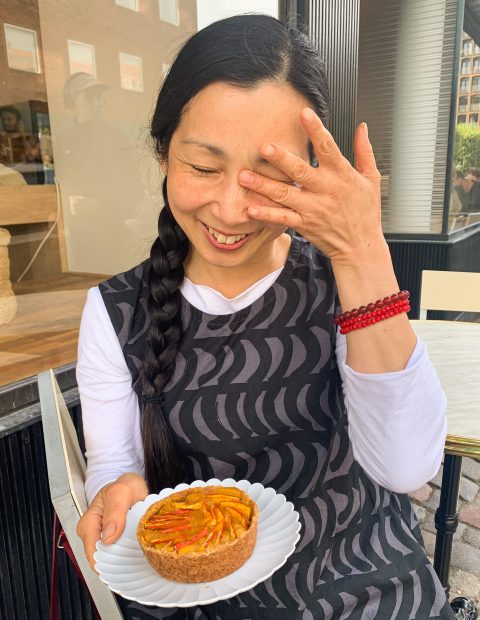 Don't point your spoon at me!
Pumpkin pies don't come better than this. Buttery shortbread crust, the freshness of Keiko's purée, all topped off with thin slices of pumpkin that add a little texture .. you can taste the love in Keiko's baking, and I'm not exaggerating. 
Keiko steamed the pumpkin to get the pure flavour out, rather than using canned pumpkin puree or roasting it, as the flavour can get slightly bitter due to the caramelisation, she explained. 
Like the Danish roulade, Swiss roll can be found in all Hong Kong and Japanese bakeries, but with a much fluffier cake base and less sugary. With Keiko's version, pumpkin and chocolate roll, she filled it with pumpkin custard that I could just eat a bowl of! 
My favourite was the jiggly pumpkin cremé caramel. Let's just say this is not for sharing, so don't even try sticking your spoon close to it! The amount of pumpkin was just right, so it didn't ruin the pudding's texture, but it was still enough to recognise the pumpkin.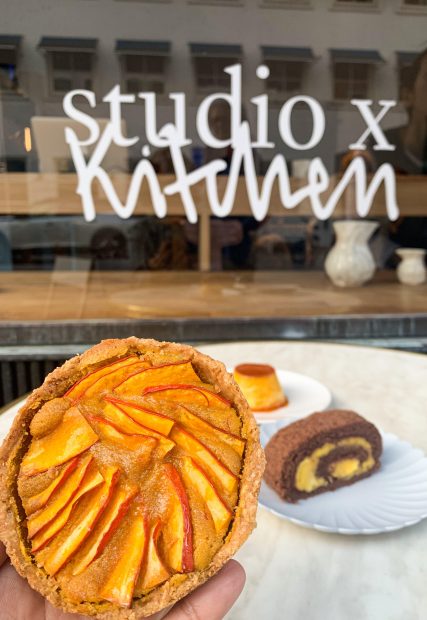 Bowl-licking broth
Enough sweet talk! Back in the days when I was living in Hong Kong, I had the privilege of experiencing a 'bowl licking, could not get enough of it' pumpkin soup, so I thought I'd recreate it for a noodle dish. It's budget-friendly and can easily be converted into a vegan version. 
I used my leftover roast chicken from the night before: bones for the broth and meat for the topping. I always get the whole free-range or organic chicken when it's on offer: 60 kroner stretches into three meals easily but that would be another article, another day.
In this recipe, I used vermicelli because it's fast, less filling and it sucks up all the soup or sauces. For a vegan version, replace chicken broth with veggies and meat with tofu. Vermicelli, tofu and enoki mushrooms can be found in most Asian food stores.
For wine lovers, this dish would pair quite well with a dry Riesling.
Let's see what you're doing with pumpkin this year. Share your thoughts and ideas with us #cphpost. Video tutorial on @omg_itsstillwednesday. Happy Autumn!
---
Pumpkin noodle soup 
– For the broth, place in a saucepan the bones of a roasted chicken, 1 carrot, 1 onion, 1 tomato, peppercorns, 2 teaspoons of Miso paste and a secret ingredient: a piece of pork fillet, but it's optional.
– Add enough water to cover all the ingredients and simmer for 60-90 minutes. Alternatively, you could use stock cubes for the broth, but it won't be as good. 
– Towards the end, throw your pumpkin (chopped into large portions still with the skin on) on top, so it's half steamed, half boiled.
 – When the pumpkin skin is soft, fish them out and blend them into a paste. Mix the broth and pumpkin paste, season and simmer for 10-15 minutes.
– Pour over prepared noodles, top with shredded chicken, steamed spinach, soya sauce, sesame oil and Enoki mushrooms. 
– If you like it spicy, add fresh chilli or chilli powder on top for a bit of a kick.