Copenhagen Building Blocks, a series of DYI knitting patterns depicting colourful houses in the Danish capital, have taken the world by storm. 
Block by block
With 16,800 Instagram followers, and several articles already written about his work, their 35-year-old Australian creator, Jake Henzler (@boy_knits_world on Instagram), is justly proud that his patterns are being reproduced by so many.
Each of the 'blocks' are constructed separately and later sewn together to form whatever the knitter desires.  
The different blocks represent facades in various areas of Copenhagen, including the city centre, Nørrebro, Østerbro, Frederiksberg and Hellerup. 
For some time now Henzler has simply knitted what has inspired him on his travels, and Copenhagen Building Blocks is the result of his time living in Frederiksberg from 2017 to 2018, during which time he worked as a substitute English teacher at a few international schools. 
Therapeutic threads
It is at times hard to appreciate what is around you – especially in the busy world in which we live. Through his patterns, Henzler is giving us an opportunity to focus and reflect on the beauty of our home city by allowing us to spend hours recreating it by hand. 
In a time of immense chaos, stress, tension and fear, taking time to just appreciate the world around us (and maybe take up a new hobby!) can be therapeutic.
Taking a deep breath and being grateful for the small things around us can provide us with a great sense of peace. Finding common ground in the beauty of art speaks to the commonality between us all. 
We recently caught up with Henzler, who has since his travels in Europe returned to his native Australia, to find out more about his work and future plans.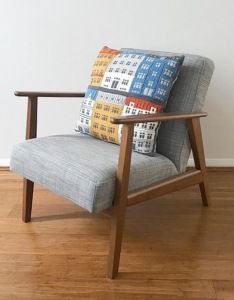 ---
What got you into knitting and crafting?
It's hard to say what got me into craft. My mum taught me to knit, but I've always enjoyed designing and making things. When I was young, an aunt used to send me books each birthday – one on origami, another on tying knots – and I remember I would often look at these for inspiration.
What inspired you to create the Copenhagen Building Blocks pattern?
Copenhagen Building Blocks was really a way of capturing the beauty of Copenhagen's buildings. There's not really anything like them in Australia, and they're such a huge part of what makes Copenhagen so beautifully livable. I used to take myself on walks around different parts of the city to photograph buildings for reference. I feel so lucky to have had the chance to spend time doing it.
What was the process of coming up with the pattern like?
It took a while to get the dimensions right for the designs. I wanted to create a basic pattern that people could adapt by substituting different features, and this meant a lot of testing. Fortunately, I had a big blanket planned and my own blocks didn't all need to be perfect examples of the patterns, so I used a number of these as opportunities to experiment with features I liked. I also learned a lot about the names of architectural features by reading about the parts I was photographing.
Why do you think Copenhagen Building Blocks was so well received?
I'm not sure what people like so much about the Building Blocks pattern. I suppose knitting patterns don't tend to feature buildings very often, so that is a novelty. The patterns are also modular, so you can make as many or as few as you like, and one block can be made with leftover amounts of yarn. This often appeals to knitters with large stashes of leftover yarn.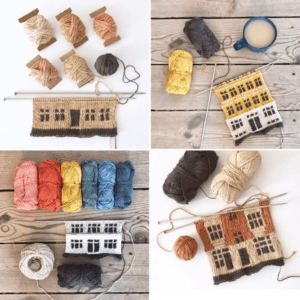 So it's safe to say they've been your most successful knitting venture?
Definitely. I also wrote a pattern book for an Australian yarn brand many years ago, which was good fun. It's such a pleasure to see other people make my designs. That process of design, interpretation and reinterpretation is fascinating. People often use patterns to produce surprising and beautiful new designs.
Had you anticipated its success?
I didn't anticipate the success of the pattern at all. It has sort of come in a few waves. People have been really lovely about it, and I'm so pleased others see in it what I see in the city.
What has been your favourite place to visit thus far?
Copenhagen is easily one of my favourite places in the world. I'm sure that's partly to do with how I spent my time there, but Denmark is also a great example of how a country can be organised for everyone's benefit. There's a strong sense of friendliness in Copenhagen, like everyone knows how to balance their life and treat other people well. I also love Tokyo, but that's really more as a tourist.
What's been your favourite creation thus far?
My favourite things I've made are a rabbit called Nüni, a koala called Estelle who runs her own miniature florist, and the Building Blocks.
For those who are creatively inclined, or like a challenge, you can purchase the knit pattern from Henzler's Ravelry.com page.