General
Feeling the vibrations on the street that never sleeps
---
This article is more than 10 years old.
Sex shop owner Ebbe Hjorth hopes the new Istedgade will bring back the street's glory days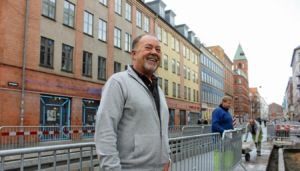 As the owner of sex shops Plan E and Pikant, Ebbe Hjorth has been seriously affected by the last six months of road construction on Istedgade.
"We have probably lost around 100,000 kroner a month since the work began," Hjorth said as we sat down in the back of his shop. But despite the losses, he is not going to apply for any kind of compensation.
"Road construction needs to be done," he said. "I know that the restaurants that are even more vulnerable than me applied for compensation but didn't get anything."
READ MORE: Istedgade makeover casts red light district in a new light
Sex toys big business
As we speak, a wide range of customers from young girls to middle-aged businessmen drop by the store to buy dildos, butt plugs and kinky costumes. Yet you can't help but wonder if road construction really is what is holding down business here, or if sex stores are simply losing territory to the internet, where people can fulfill their kinky fantasies anonymously.
"People still need personal service when they are looking for sex toys," Hjorth explained. "They want to see the size and feel the vibrations themselves. You can find many toys on the internet, but you don't know if it is the right product for you before you have felt it in your own hands.
He hands over a discreet 800 kroner purple spinning dildo.
"Try holding this," he said. "You don't feel these vibrations on the internet."
Store belonged to gangster
Plan E is located at the rather legendary address Istedgade 30, which used to house the Keyhole Club, the first club in Denmark to hold live sex shows. It was owned by the infamous porn-king and gangster Røde Kai (Red Kai).
It was here that Hjorth started to work when he first moved to Copenhagen from Aarhus as a young man in 1979.
Back then, Copenhagen was one of the only places in Europe where you could buy porn on the street, and Istedgade became Scandinavia's red light district. It was known as the 'street that never sleeps' with sex stores, prostitutes, junkies and strip clubs huddled together on the 'bad end' closest to Central Station.
Porn is sagging behind
When Hjorth opened Plan E in 2000, the street had already gone through a lot of changes since the 1970's. Given that the sex industry on Istedgade was ignited by the legalisation of porn in 1969, it is remarkable how few magazines and DVDs you see on the shelves today.
"Porn is definitely an area where the internet has taken over. Movies were big business in the 1970s and 1980s. Today we primarily sell bizarre porn movies that can be a bit trickier to dig up on the internet, but there is no money in soft-core porn anymore," Hjorth said. "I remember when sex shops had endless rows of only Danish porn magazines. Today there is nothing local anymore. It is the same with the Danish porn movie industry. All the big production companies have closed."
80-year old American regulars
Since Istedgade may be one of the only streets besides Strøget that foreigners have actually heard of, a large proportion of Plan E's customers are tourists, and business tends to skyrocket whenever an American cruise ship harbours. Some tourists have even become regulars.
"An American couple came in recently. They were both around 80 years old and the husband was using a walking stick. They had been here before on their last visit to the city a few years ago and came back because they liked the service and because we are the only sex shop without stairs."
Hoping for a renaissance
For six months, Plan E was tucked away behind fences and the pavement in front of the store was ripped open. Now that the finishing touches have been laid on the brand new street, Hjorth hopes that the financial losses he suffered during the construction will pay off.
"The city planners told the stores that the broader pavements can be used for outdoor seating and exhibiting 'colourful toys' as they put it. I believe they were thinking of us when they wrote that," he laughs. "Although we have lost a lot of money, I am sure that the new design of the street is going to improve business in the long run."