News
The bridge that has made the River Kwai one look like a weekend job
---
This article is more than 8 years old.
After six long years waiting for Inderhavnsbroen, finally something's happening on the water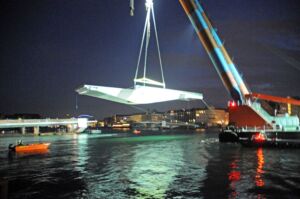 After six years of waiting and speculation, Copenhagen has taken a monumental step closer to witnessing a historic moment.
On Monday, the 50-metre long, 500-tonne missing part of Inderhavnsbroen (inner harbour bridge), connecting Nyhavn and Holmen, was lifted in by a huge floating crane.
The mounting begun late on Monday and is expected to be finished today.  The dedication and opening to the public will follow later in the year.
Close to finishing … at last
"We are very close to the target now, and we are obviously very pleased," explained the bridge's technical and environmental area service manager, Anders Moller.
"It has been a very complex process in which we have met a number of challenges, partly because our original contractor went bankrupt early in the process. We are therefore really looking forward to inaugurating Inderhavnsbroen along with the people of Copenhagen and the AP Møller Foundation."
READ MORE: Bicycle route through Christiania delayed again
Once the bridge is finished, it is expected that around 3,000 cyclists will cross it on a daily basis.