News
Politiken sparks controversy with graphic that rates American black icons
---
This article is more than 8 years old.
The personalities are positioned them on an axis assessing good vs evil and integrated vs angry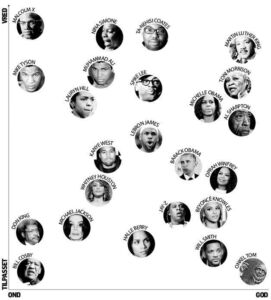 Politiken's recent chart showing the faces of US black icons like Malcom X, Bill Cosby, Beyonce and Kanye West – which rates them on a grid as to whether they are 'integrated' or 'angry' and 'good' or 'evil' – has kicked off a debate on whether the entire enterprise was a clear-cut example of institutional racism.
Calling it a "definitive barometer of black American icons", the newspaper mentioned the continued unravelling of the legacy of Bill Cosby and a new book on racism, 'Between the World and Me' by journalist Ta-Nehisi Coates, as the motivation for the somewhat bizarre graphic.
READ MORE: Does Denmark have a racism problem?
The response to the chart on Facebook was quick and mostly negative.
"Even if it is meant as a joke, this is still racist," wrote one respondent to the Politiken Facebook page.
Another said: "Wow, this is really weird."
Satire?
Politiken attempted to defend the piece by saying it was intended as "satire" and that it made more sense when viewed in the context of the printed page and that something was lost in the translation to social media.
They also wrote that it had been intended for a Danish audience and that perhaps Americans upset by it just didn't get the humour.
That explanation did not sit well with at least one Danish poster who said on Facebook, in Danish: "It's just stupid. I didn't laugh even once."