News
Foreign minister highlights Arctic ambitions
---
This article is more than 8 years old.
Danish commonwealth preparing for Alaskan summit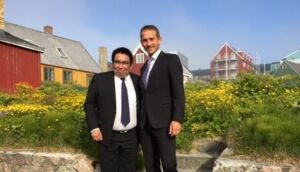 The foreign minister, Kristian Jensen, has just returned to Denmark from a two-day trip to Nuuk, Greenland, where he discussed the Arctic challenges facing the Danish commonwealth.
Jensen met with the head of the Greenlandic government, Vittus Qujaukitsoq, and other local politicians to discuss issues regarding financial development, climate challenges and security.
"I am pleased to be able to get to Greenland so quickly [following his appointment as foreign minister]," said Jensen. "The co-operation with Greenland, the commonwealth and the Arctic question is of strategic importance to me and the government."
READ MORE: Government negotiating with US on Thule contract
Thule base 
Jensen said the Arctic region and the Thule base were of essential character, and that the flourishing co-operation would be continued at the Arctic summit in Alaska two weeks from now.
The US secretary of state, John Kerry, is set to host the Arctic summit in Alaska from August 30-September 1.
Jensen also revealed that Greenland Contractors, the Greenlandic subcontractor owned by the Danish company MT Højgaard, has had its service contract for the Thule base extended by another year ahead of a new bidding round for the contract.