News
Neighbours suing frackers
---
This article is more than 8 years old.
Now that Total has suspended drilling, the stage is set for legal action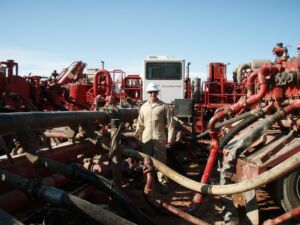 Neighbours to the now-suspended shale gas drilling efforts in Vendsyssel in northern Jutland say that they plan to sue both the Frederikshavn municipality and the energy company Total.
"We are suing because no one believed in us with respect to the pressures we have been exposed to up here," stud farm owner Karsten Glinvad Kristensen told DR Nyheder.
Kristensen said that he has already filed suit against the French energy company Total for losses suffered by his business, and that he and his neighbours will be meeting with lawyers to discuss a lawsuit against the municipality.
"It is impossible to sell houses up here," said Kristensen "There have been properties for sale that have been impossible to get loans for because they're too close to the shale gas drilling."
Recovery could take years
Kristensen and his neighbours will be asking the municipality for "substantial compensation".
"This will run into double-digit millions," said Kristensen.
Knud Foldschack, the laywer that has been retained by Kristensen and his neighbours, said that they have a strong case.
"We must ensure that those who have suffered during this whole process receive compensation," said Foldschack. "The municipal authorities have underestimated the consequences and they should have involved the neighbours more in the process."
READ MORE: Fracking off in Denmark as Total gives up on drilling in Dybvad
Foldschack said that the residents should receive compensation, partly because the value of their homes fell sharply once drilling started."
"They will be affected for years in relation to house prices," said Foldschack. "Banks and credit unions have refused to lend money to people in the area, and I think it will be many years before prices return to normal."
The state is responsible
Frederikshavn mayor Birgit S Hansen said that she believes that the municipality has done what it could.
"We take our citizens seriously, but we should remember that the state authorised the drilling," said Hansen. "The state has to take a great deal of the responsibility, but we stand by everything we have done in Frederikshavn."