General
A killer, you'll be banging on your chest: Bang bang, Gorilla
---
This article is more than 8 years old.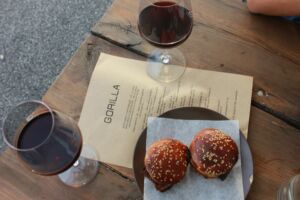 There's a new monkey out in the jungle of hipsters, but it's no chimp, it's a Gorilla. Brother of Pluto and Barbie, this restaurant, located in the meatpacking district, has an unconventional yet sophisticated menu that will make you screech with joy, beat your chest and chatter about for the rest of the evening.
Henrik's hunky advice
Let's go plate by plate, because there was lots of delicious food to try, and every dish deserves a mention.
We chose to sit outside, as it was unexpectedly hot, even though the setting inside looked cosy with candles. The white tiling gives it the look of a butcher's, thus staying true to the history of the district.
Our waiter for the night was the adorable Henrik, who spoiled us all evening and explained in detail all the things we wanted to know. He definitely deserves an award for being so patient in the firing line of our numerous questions.
Not that we always listened to him! When the aromatic homemade bread came to our table, we were pretty hungry and eager to dig in, but Henrik warned us "not to get too full, because there were many courses to come". Men! Whether we were naive or too proud to say we couldn't handle it, you can be assured we regretted it later.
Life too short for bad wine
To spark off proceedings we were served La Petite Gaule Du Martin, an interesting sparkling French wine, which is produced pétillant-naturel style with arbois grapes that only grow on the Loire Valley. It was soft, lively and ideal for the warm evening.
And over the course of the dinner we were treated to two other glorious wines.
The first, the Chateau le Puy – Emiliene 2011, is a wine that has been in the same family since 1600. Produced in Cotes de Bordeaux Francs, it is a mix of three grapes – carmenere, cabernet sauvignon and tannat – which yield it a strong and rich lasting flavour.
While the sparkling rosé, Cerdon-Renardat Fache-Bugey, is produced by the Cerdon family. While undeniably fruity (racy maybe), it was not as sweet as other rosés and it went perfectly with dessert – one of Henrik's suggestions we were happy to go with.
Its varieté showed
Danish oysters, home-made potato crisps, iberico bellota ham, and tartar with radicchio had suddenly occupied our empty table. "Where to start?" we thought to ourselves.
The oysters with hazelnuts made us crunch in enlightenment along with the crisps, because who doesn't like a hardwire crunchy sensation? Whenever you hear the word crunchy there is a big chance your brain is already priming you for the experience.
The fine Spanish ham was true to its brand and didn't disappoint, while the tartar, well I must admit … it's not for me, but my partner-in-crime was pleased with it. As they say, 'one man's meat is another man's poison.'
The fish course duly followed, but while the haddock with almond and peaches was a good combination, an unexpected interloper came and blew it away.
On the next table I spotted a sandwich that looked like a pineapple (I wasn't hallucinating – just look at the picture).
I was immediately curious and asked Henrik to bring it. A masterclass in both presentation and taste, the lobster roll has to be my top recommendation. I loved every bit of it.
Fellini was right
An observation of Fellini's, "Life is a combination of magic and pasta", came to mind when the next course came to the table. It was exquisitely arranged.
Who said only Italians could make pasta! We adored the ravioli with escargot and the linguini with crab sauce, which left us with such a creamy aftertaste. The portions were small, which is pretty much ideal when you consider how filling pasta can be.
But given the quality, we took another look at the menu and vowed to try the 'Gnudi al pesto' on our next visit.
Give me some passion!
Since I arrived in Denmark I can't stop eating passion fruit. Passion fruit smoothies, ice-creams, cakes, juices, cocktails – you name it! So it's no surprise to learn that the passion pie was my favourite dessert. Citric, acid and sweet in one bite – just try it.
Also recommended are the peach and raspberry ice cream and the lemon rose sorbet.
This restaurant has something for all tastes, whichever way you swing. It serves both fine dining and comfort food (like the brisket sliders, or as I would call them: the 'little hamburgers') and it's creating quite a buzz in the district. After all, gorillas always know how to make an entrance!