News
MRSA outbreak at Odense University Hospital
---
This article is more than 8 years old.
Patients and staff are being inoculated while hygiene experts search for a possible source of infection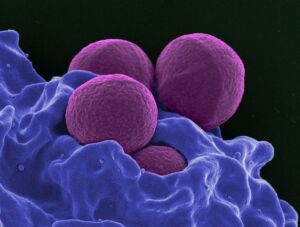 Two patients from Odense University Hospital have been infected with MRSA.
Hospital hygiene experts are now investigating if the source of the infection is somewhere in the hospital.
The two stricken patients were admitted to the hospital's orthopedic department earlier in the summer.
"First of all, we will examine all current inpatients and employees to ensure we do not have an unknown source of infection in the department," Hans Jørn Kolmos, a consultant at OUH, told DR Nyheder.
"At the same time, we are reviewing all of our procedures."
Taking it seriously
If the tests are positive, the hospital said it will take "extreme measures" in order to get rid of the bacteria.
"This is a multi-resistant bacteria requiring top-shelf medications," said Kolmos.
"We do everything we can to avoid MRSA outbreaks and take this very seriously."
READ MORE: Up to 12,000 Danes could be carrying MRSA
According to Kolmos, the Odense hospital tends to have a MRSA outbreak once or twice a year.
The current MRSA outbreak is type CC 398, which is also known as porcine MRSA. The bacterium is particularly dangerous for people with a weakened immune system.