News
Delayed again: The bridge that won't open
---
This article is more than 8 years old.
Functionality test reveals problems with pulling wires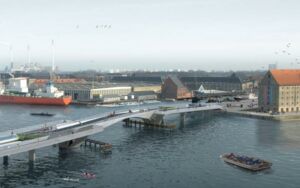 It sounds like a bad joke, but unfortunately the neverending story that is Inderhavnsbroen keeps on plodding along. Just as it was just about to be finally opened, the bridge has been delayed once again.
A functionality test on the bridge revealed there is a problem with the wires that pull the 250-tonne steel bridge span. The technical and environment authority Teknik- og Miljøforvaltningen (T&M) has yet to set a date for a new opening.
"The wires need to be set up in a different manner to work properly," Anders Møller, a spokesperson from T&M, told Ingeniøren newspaper. "There are some points where they come into contact with the frame. Apparently it's a design error."
READ MORE: The bridge that has made the River Kwai one look like a weekend job
Delayed for years
The good news is that the functionality test, which has been ongoing since August 3, also revealed that the bridge connects in the middle as it should.
Inderhavnsbroen, which was originally scheduled to open to the public in February 2013, has been delayed a number of times thanks to some issues with its design, the bankruptcy of the original contractor Pihl & Søn and problems with the steel delivered by that company's Spanish supplier.