General
Ryanair still has huge plans in Copenhagen
---
This article is more than 8 years old.
Recent problems in Denmark won't stand in the way of expansion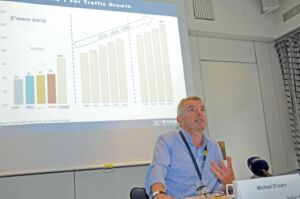 The Irish budget airline Ryanair still has ambitious plans to quadruple its activities at Copenhagen Airport.
Despite closing its hub in Copenhagen last month, the airline today revealed it intends to expand its number of routes from Copenhagen to 60 over the next three to five years.
"Ryanair continues to grow in Copenhagen and we look forward to further growth in Danish tourism, traffic and jobs," said Michael O'Leary, the CEO of Ryanair.
"We are pleased that our arrival in Copenhagen has delivered the lowest Danish airfares in three years, and we will continue to offer Danish tourists and consumers the lowest fares and biggest route network and make Copenhagen one of Europe's fastest growing airports (July traffic was up 5 percent to a record 2.7m passengers)."
READ MORE: Ryanair on the brink of closing its hub in Billund
126 weekly flights
The airline has also launched its summer 2016 schedule, which includes 15 routes, including a new route to Oporto in Portugal, catering to some 2.5 million passengers.
Ryanair's summer schedule includes four daily flights to London; two daily flights to Brussels and Milan; one daily flight to Madrid, Malaga, Rome, Dublin, Cologne, Stockholm, Kaunas and Budapest; three weekly flights to Bologna and Oporto; four weekly flights to Edinburgh; and five weekly flights to Alicante.