News
Danish nudists yearn for larger 'playground'
---
This article is more than 8 years old.
Beaches and designated areas not enough anymore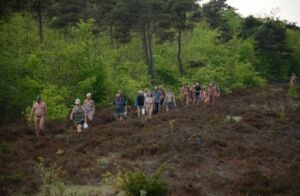 According to the Danish nudist association Danske Naturister, nudists in Denmark have had enough of being limited to beaches and specially designated camping areas.
Now they want to be able to strip to their birthday suits in the city parks or in the forest and are working towards making being naked in public more socially acceptable.
"There's not enough space at the beaches for people to dress as they please," Kim Bindesbøll Andersen, the head of Danske Naturister in north Jutland, told DR Nyheder. "So it's relevant to see if there are any other places that have room for it."
"We already hold picnics in parks. Then people can see for themselves how safe it is that there are some people sitting in a corner of the park with no clothes on."
READ MORE: Danish women keeping their tops on
Skin deep
Andersen contended there is already so much nudity in the public space, including the media and online, that it should be fine to sit naked in a park.
It's not illegal, per say, to be naked in public. In order for it to be illegal, the nudity must offend someone, and it is up to the police to discern whether the nudity was designated to offend.
Andersen has put together a guide for nudity in the public space (here in Danish) for the purpose of spreading these types of activities.