News
Danes defying laws and transporting migrants to Sweden
---
This article is more than 8 years old.
By bridge and by sea, locals are lending a hand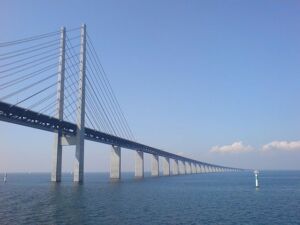 Danish citizens are defying European asylum laws and helping migrants get to Sweden.
Swedish Police spokesman Lars Forstell said today that 14 people have been detained under suspicion they illegally transported migrants across the Øresund Bridge from Copenhagen to Malmö.
Those arrested do not seem to be part of organised smuggling networks, rather individuals who wanted to help migrants come to Sweden for humanitarian reasons.
"It's my duty"
Under EU rules they are supposed to apply for asylum in the first EU country they enter, not travel from one country to the next.
Anders Holsteng, a 35-year-old Danish teacher, told DR he had called in sick on Tuesday to drive a handful of Syrians to Malmö after giving them shelter overnight.
"I believe it's my duty to help people," he said.
Meanwhile, a group of young Danes have taken to the seas to help migrants get to Sweden.
Across the border over the waves
Annika Holm Nielsen and three friends waited at Copenhagen's main train station for migrants arriving on a train from Germany.
"We saw a man who looked like he could be a refugee and showed him a sign that said 'Welcome, would you like to go to Sweden'," Nielsen told DR.
"The man nodded, but since there were police everywhere, we hustled him from the station and sailed him to Sweden."
Nielsen, who said on her Facebook page that European law has now turned her into a human smuggler, explained the experience was both surreal and humbling.
"He just kept saying: 'I trust you, I trust you,'" she said.
Nielsen said she felt compelled to help, even though transporting refugees to Sweden is illegal.
"This man has endured so many terrible things. We felt like we had to help him."
Hopes to inspire others
A group of Swedes on the other end helped get the man to the Swedish authorities and get him registered.
The Swedish Migration Agency reports that about 700 people have applied for asylum in Malmö since last week.
"Of course I don't want to be arrested, but when the law is unfair, one is compelled to break it," she said.
Nielsen would not say if she planned any more trips, but she hoped that her actions would inspire others to help get migrants to Sweden.
Danish police have urged people who want to help migrants to donate food or clothes, not shelter them illegally or smuggle them across borders.