News
Extremely rare truffle found on Lolland
---
This article is more than 8 years old.
A kilo of this treat for connoisseurs can cost several thousand kroner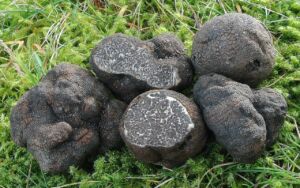 An extremely rare truffle, Tuber macrosporum, has been found near Nakskov on Lolland.
This particular truffle is extremely rare in Northern Europe and is considered the best of all the black truffles by gourmet experts, beating in taste even the famous Perigord truffle, Tuber melanosporum.
Unlike Perigord, Tuber macrosporum is not grown commercially, so finding it on Lolland is a true rarity.
Sniffed by a dog
The only other time Tuber macrosporum was found on Danish soil was 26 years ago in a villa garden on Thurø.
This time, it was a dog who sniffed out the rare truffle under an oak tree in his owner's garden.
Other edible truffles found in Denmark in recent years have all been summer truffles, Tuber aestivum.
Smell and tastes like garlic
According to a fungi expert, Christian Lange from the Natural History Museum, a kilo of Tuber macrosporum is worth as much as several thousand kroner.
The truffle has a very distinctive fragrance that resembles garlic, and according to Lange it has a taste of fresh hazelnuts with a sharp garlicky aftertaste.
So far, five truffles have been found in the private garden near Nakskov – the largest of which weighed 22 grams.