News
Danish journalists beaten with batons by Hungarian police
---
This article is more than 8 years old.
Newsmen were covering refugee crisis at border with Serbia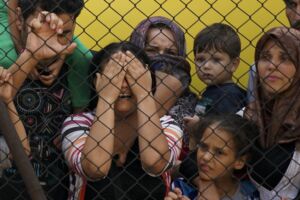 Two Danish journalists were beaten up by Hungarian police today whilst covering the refugee crisis in the country.
Lasse Henriksen, a journalist from Radio24Syv, and a photographer from the tabloid newspaper Ekstra Bladet were hit by batons whilst standing at the Hungarian border with Serbia.
Hitting everyone around
"They hit anyone standing near the border without paying attention to who they were," Henriksen stated.
"It did not help that I was standing there with my microphone and a press pass."
On Monday night, Hungary closed down a key border crossing from Serbia and put up a 175 km barbed wire fence to prevent migrants from entering the EU.