News
Gundestrup Cauldron to be exhibited in London
---
This article is more than 8 years old.
This exceptional piece of silverware from the Iron Age was found in Denmark and now will be part of a special exhibition on Celtic culture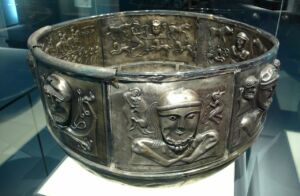 The National Museum of Denmark has loaned the Gundestrup Cauldron, the largest known example of European Iron Age silver work, to the British Museum in London.
The richly decorated silver vessel will be exhibited by the museum as part of a special exhibition on the Celts between 24 September 2015 and 31 January 2016.
Developed in partnership with National Museums Scotland, it is the museum's first major exhibition in 40 years on the Celts and has a special focus on the history of Celtic art and identity.
The Gundestrup Cauldron was found 125 years ago in northern Jutland and has been a mystery to archaeologists ever since as they haven't been able to unravel the story behind the pictures depicted on it.