News
Terma lands contract with BAE Systems potentially worth 1.6 billion kroner
---
This article is more than 8 years old.
Co-operation between Danes and Brits on F-35 fighter jet looks set to continue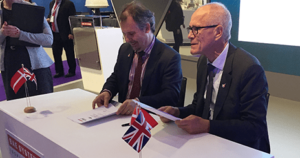 The Danish aerospace company Terma has signed a contract, potentially worth 1.6 billion kroner over the next 23 years, with the British multinational BAE Systems to continue manufacturing components of the F-35 Lightening II aircraft.
The new agreement will extend collaboration between the two companies, whereby Terma delivers advanced composite structural parts for the tails of the aircraft. Paul Burns, the F-35 global procurement and supply chain director at BAE Systems, expressed satisfaction with the companies' continued co-operation.
"We are delighted to sign this agreement with Terma. We have been working together with Terma for over 10 years and have developed a strong relationship that is delivering real benefits to both companies and the F-35 program," he said.
"It is through agreements such as this, with organisations like Terma, that will help BAE Systems meet our 'Blueprint for Affordability' commitments on the program."
Vote of confidence
Jens Maaløe, the CEO of Terma, takes the agreement as a vote of confidence.
"It is strong evidence of Terma's present and future position on the F-35 program and it shows how collaboration can benefit Terma, Danish industry and the F-35 program as a whole," he said.
"Terma has established a solid and reliable technology base for our future involvement in the program. At present, Terma is preparing for further investment in technology and production facilities," said Maaløe.
However, parts of the agreement are out of Terma's direct control and depend on Denmark choosing the F-35 to replace its F-16s. The other candidates are the Eurofighter and the American F-18 Super Hornet.