News
Nadal in Davis Cup action in Denmark today
---
This article is more than 8 years old.
The world number eight is playing a Dane ranked 901 places below him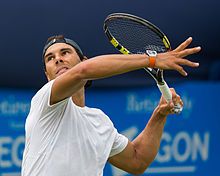 The world number eight, Rafael Nadal, has returned to Spain's Davis Cup team after a two-year break to compete against Denmark in the first round relegation playoff, which begins at the Odense Sports Centre today.
Nadal will hope he gets Spain off to a good start in the singles, which begin at 4pm when he takes on Mikael Torpegaard, the world number 909, after which David Ferrer will play Danish doubles specialist Frederik Nielsen
Nadal only needs to play one more tie in order to qualify for the 2016 Olympic Games.
One can always believe
"Although Spain is the obvious favourite, I am optimistic and believe we have a chance to win," said Kenneth Carlsen, Denmark's captain.
However, youngster Søren Hess-Olesen had to pull out on Thursday due to injury.
Denmark has chosen to play on a hard court as the Spaniards traditionally perform best on clay.
All the tickets for Friday's single matches have been sold out, but a few tickets may still be available for Saturday's doubles games and Sunday's singles.