Business
Brewing a success: micro by name, but in the fast lane
---
This article is more than 8 years old.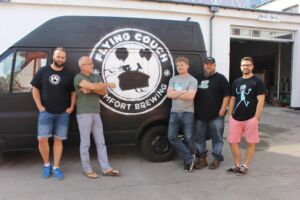 In a market with big players like Carlsberg, the world's fourth largest beer company, competition in the Danish brewing industry is understandably fierce.
But as consumers increasingly demonstrate they are willing to pay good money for quality, and the popularity of Danish craft beers continues to skyrocket, both at home and overseas, it's easy to understand why so many new microbreweries are entering the market.
With minimal startup costs required, the risks are relatively low, which might explain why so many small beer brewers are proving it is possible to take on the giants and claim your own slice of the pie.
One such enterprise is Flying Couch, in the up-and-coming Copenhagen district of Nordvest, brainchild of Danish brewer Peter Sonne (formerly of the acclaimed and established Nørrebro Bryghus) and Michael Aron, an Australian who had been biding his time on the bar scene, waiting for the right investment opportunity to present itself.
Earlier this month, the Weekly Post caught up with the pair to ask them about their plans and talk about their motivation and aspirations.
Dream partnership
Born and raised in Melbourne in southern Australia, Aron came to Denmark six years ago. He initially worked in the bar industry, deciding he would invest his personal savings when he saw an opportunity, but he didn't find the right fit.
By this point, Aron was 'all in'. His love for the city was rapidly growing, he had married a Swede and resolved to "never move back". And then in 2013, he met Sonne and quickly knew this was the chance he had been waiting for.
Sonne, a known talent in the industry, had plans to go solo and experiment without boundaries. "I had been working for the best breweries in Denmark for ten years. The more reputation you gain, the more freedom they give you to create. But it was time to make the move," he said.
And Aron was the partner who could make it happen, with whom Sonne could share the risk and responsibility.
"I've always been a 'beer nerd, and I knew this guy had a good reputation for beer crafting," he recalled. "So there it was: the perfect way to invest my money."
Worth the risk
It hasn't been easy, but as long as you're confident in your product, it's worth taking the risk, contend the duo.
"We are not trying to invent something new. The main goal is to make high quality beers," said Sonne.
"I would recommend taking the risk – if not, you will never know," added Aron.
Ideal environment
Aron has found Denmark to be a great country to start a business.
"There are lots of people here who have money and want to invest in startup companies," he enthused.
And it is particularly good for craft beer, Aron contends, being second only to the US across the whole world.
Aron is grateful for the free advice he received on starting a business and taking care of his tax – municipal services he heartily recommends to other international entrepreneurs.
Anyone can do it!
Ultimately it is a profession in which experience and ability are more important than qualifications.
"I started just for fun. My good friend is a teacher and needed a way to get young people to learn chemistry in an exciting way," revealed
Sonne.
"So on Saturdays we came to brew beer as an educational subject and I just got crazy about it, so I kept on doing it. That's how I later got a job in a brewery."