General
This week's TV: Hits you right in the heart
---
This article is more than 8 years old.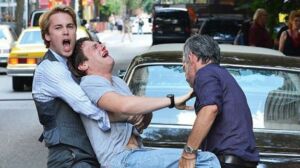 The Normal Heart
DRK, THU 21:30
Move over Jeff Daniels and why America is not the greatest anymore, because Julia Roberts' monologue in The Normal Heart is the new darling of YouTube.
The HBO winner of the Emmy for best TV movie of 2014 follows the efforts of a writer (Mark Ruffalo) to raise awareness of a disease that is killing the gay community. The year is 1981, and with the help of a doctor (Roberts), he does his best, but it is an uphill struggle in the face of ignorance and discrimination.
With 85 on Metacritic and numerous award nominations, Rolling Stone hailed this as "drama at its most incendiary, a blunt instrument that is also poetic and profound".
While the cast are universally praised, it was the raging voice of the writer, the LGBT rights activist Larry Kramer (Women in Love), that drew the most fanfare.
Also New:
Docudrama The Last Hours of Michael Hutchence does its best, but nobody will ever know whether he deliberately hung himself or died during an act of autoerotic asphyxiation.
The former seems more likely. In fact, it is one of this newspaper's ambitions to track down the taxi driver who assaulted the INXS singer in Copenhagen in 1992, as this led to him losing his sense of smell, taste and marbles. He never properly recovered, and somewhere out there lurks a cabbie with his blood on his hands.
You never know, an alive Hutchence could have taken part in last Saturday's Global Citizen Festival (DR3, Fri 21:00) in New York alongside Beyonce, although we'd prefer to think he would have gone awol for 20 years and ended up being discovered by a program like The Tribe (DR2, Tue 19:55), an acclaimed 2015 series from Channel 4 set in an Ethiopian village.
Elsewhere, we've got S5 of Homeland (DR2, Wed 21:30) and S3 of Vikings (DR3, Sat 20:45); the first ever episodes of US paramedic comedy Sirens (3+, Sat 09:40) and 2013 Twin Peaks wannabe Mayday (SVT1, Fri 23:15); two murder doc series Killer in the Family (DR1, Sun 00:05) and Murder Maps (DRK, Wed 20:00); and Parts Unknown travels to Peru (DR2, Thu 19:15), the next big thing in cuisine apparently.
Coming soon: The Affair – season 2
The last scene of the first season left us with a knockout blow as Noah (Dominic West) was escorted away by the police. But 10 agonising months have passed fast, and the new season is back on October 5 more intense than ever.
Noah and Allison are living together. Noah is getting a divorce. Noah is on trial for murder. Okay, but what we all want to know: is there true love behind this destructive affair?
With an 85 score on Metacritic last year and a Golden Globe Award for Best Drama Series, we can't expect less from it, can we?  (EN)

Sport of the week
The 2015 Rugby World Cup just got critical for hosts England. Lose to Australia and it's curtains (unless Wales lost to Fiji on Thursday). On Sunday, they can drown their sorrows in the EPL double header Everton vs Liverpool and Arsenal vs Man Utd. Elsewhere, Denmark take on Portugal in their final Euro 2016 qualifier and then must hope Albania lose to Serbia (K6, Thu 20:30). (BH)

Film of the week
They're lining them up for Friday movie night. The Hoax, which details how the world was fooled by a fake autobiography of Howard Hughes, is a strong contender, while the award-winning British film Broken packs a punch that's hard to counter. Horror yarn Intruders, heist flick Empire State (TV3, Fri 22:20) and romcom 10 years (K4, Fri 20:00) are all deadweights best avoided.  (BH)