News
Folketinget officially kick-starts new parliamentary year
---
This article is more than 8 years old.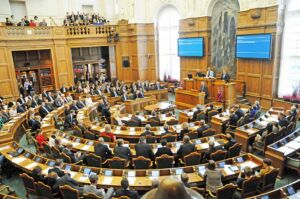 Folketinget, the Danish Parliament, officially began its new parliamentary year today.
According to the Danish constitution, a new parliamentary year must always start on the first Tuesday in October at noon.
Numerous traditions are linked to the special event, including a church service, ceremonial speeches and a public demonstration in front of the home of Parliament, Christiansborg Palace.
Royalty on their way, Enhedslisten delayed
So as is traditional, the day started at 10 am with a church service for the members of Parliament at Christiansborg Slotskirke.
Then, at 11:40, the prominent members of the Danish Royal Family arrived at Christiansborg, including Queen Margrethe II, to greet the MPs. However, a few members of Enhedslisten arrived late and missed the greeting.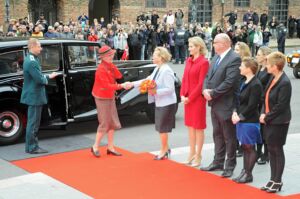 Parliament's new speaker Pia Kjærsgaard welcoming the Queen (photo credit: Hasse Ferrold)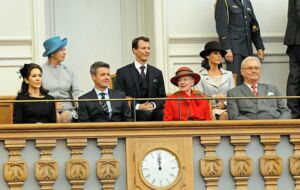 The Danish Royal Family observing the opening ceremony of the new parliamentary year (photo credit: Hasse Ferrold)
Starting at noon sharp
At exactly 12 pm the MPs began their first official meeting, and as is traditional, it was chaired by the longest-serving member. This year, it was again the minister for culture and religion, Bertel Haarder, who has been a member of Parliament for 35 years.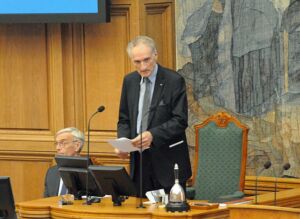 As the longest-serving MP, Bertel Haarder kicked off the new parliamentary season at noon  (photo credit: Hasse Ferrold)
Pia Kjærsgaard from Dansk Folkeparti was, as expected, re-elected as the chairman (the speaker) of Parliament, and then the prime minister, Lars Løkke Rasmussen, gave his opening speech.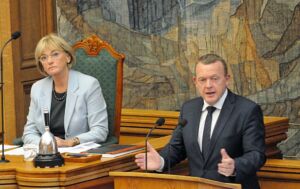 Lars Løkke Rasmussen giving his opening speech (photo credit: Hasse Ferrold)
The prime minister's speech
Rasmussen spoke about the many challenges that are facing the new members of Parliament over the next year, including the refugee crisis and differences between large cities and the Danish countryside.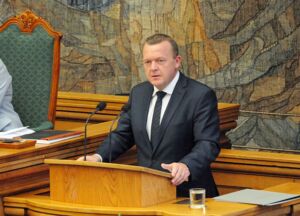 Rasmussen also addressed the lack of state finances (photo credit: Hasse Ferrold)
"We have 5 billion less in the budget for next year. We must strictly prioritise. The government has decided to spend less on development aid, but enough to meet the UN targets," Rasmussen stated.
"We have to enhance the efficiency of the education sector, but remain among the top countries that invest the most in education."
READ MORE: Budget cuts to impact on Danish foreign aid
Demonstrating for refugees
As is traditional, a demonstration was held in front of Christiansborg at 5 pm.
Some 26,000 people registered via Facebook as 'going' to protest in favour of the 'proper treatment of refugees'.