News
Norwegian boss promises ultra-cheap fare to the US
---
This article is more than 8 years old.
A 500 kroner transAtlantic flight could be a reality in 2017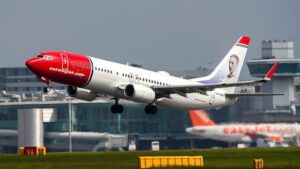 Bjørn Kjos, the head of low-cost airline Norwegian, has revealed he has a goal of lowering the price of a trip between the US and Europe to as little as 500 kroner.
While some are excited by the claim, others are meeting Kjos's boast with a degree of scepticism
"We have seen Bjørn Kjos promise gold and green forests before," aviation expert Ole Kichert Christensen from check-in.dk told Jyllands-Posten. "Perhaps it will come to something, maybe it's just a media stunt."
Small airports
The idea would be that flights will be made from small airports to reduce the fare.
Christensen said that it is probably not possible to turn a profit flying travellers across the Atlantic for 500 kroner.
"That is incredibly low," he said. "But it could be that every seat on a 200-seat aircraft will not be priced at 500 kroner. It could be that there will be four seats at that price and the rest will cost 2,000 kroner."
Kjos mentioned Westchester north of New York as the type of smaller airport that could come into play as an alternative to the crowded and expensive airports closer to the larger American cities.
Christensen said that transport issues from backwaters, when added to Norwegian's luggage and meal fees, could well negate any savings on the initial ticket price.
"It often ends up costing almost the same as other airlines," he said.
First-time travellers
Other airlines, including Icelandic carrier Wow and Eurowings, say they also plan to cut prices on long-haul routes.
Kjos said that his company's fuel-efficient Boeing Dreamliner aircraft are able to fly more cheaply than many competitors.
And the extremely low prices may entice new customers.
"This could enable people to go to the United States who could never manage it before," said Christensen. "They may now say that they have to give it a try."