General
Generational drama in the heart of the theatre
---
This article is more than 8 years old.
'Playing Cards: Hearts' spans two centuries and three continents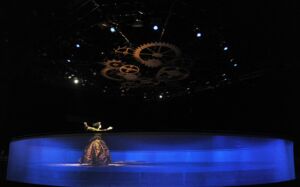 One of Quebec's most famous artists, Robert Lepage, is bringing his unique 360° theatre experience to Østre Gasværk in Copenhagen.
Created specifically for round venues, Lepage's new project, Playing Cards, explores universes inspired by the playing-card suits: spades, hearts, diamonds and clubs.
Everything, including the structure, themes and characters in the show, is linked to the specific suit.
In Playing Cards: Hearts, the second of a planned quartet of plays, a web is woven around three countries and four generations, as the audience follows the lives of people in modern-day Quebec, colonial Algeria and 19th century France.
In this 150-minute piece, we meet Chaffik, a young North African taxi driver living in today's Quebec City, whose life is connected to a renowned French magician who was sent to Algeria in 1856 to challenge the spiritual and magical powers of the marabous.
"Hearts explores the roots of the uneasy relationship between the French and the Arab peoples in a plot that stretches from the early days of France's colonisation of Algeria to modern-day Quebec," praised Canadian newspaper The Global and Mail.
Famous for its musical theatre plays, contemporary drama and experimental theatre, Østre Gasværk provides an ideal stage for this strong humanistic tale.