News
Danish journalist details torture at the hands of IS
---
This article is more than 8 years old.
Daniel Rye Ottosen was beaten, starved and forced to dance with 'Jihadi John'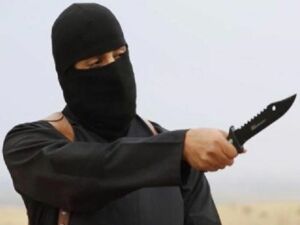 Daniel Rye Ottosen, the Danish freelance photographer who endured months of torture at the hands of Islamic State (IS) extremists before being released in June 2014, says the terrorist known as 'Jihadi John' forced him to stand for days and dance the tango at a prison in Syria.
Ottosen, the last IS hostage to be released alive, revealed details about his experience in an interview on DR Nyheder on Sunday.
Ottosen – a freelance photographer from Odense – said that after being captured, Jihadi John, the British terrorist who has been identified as Mohammed Emwazi, forced him to do a degrading dance that ended in a brutal beating.
Danse Macabre
Emwazi was born in Kuwait, raised in London, and graduated from Westminster University before going to Syria in 2013 to fight with IS. He is known to have personally beheaded at least four hostages and has been featured in IS propaganda videos.
"Do you want to dance?" Ottosen said Emwazi asked him. "Then he picked me up and we were supposed to dance the tango together."
Ottosen said he had already been beaten when Emwazi forced him to dance.
"I had my head down and my arms up and he led me around the prison, and then suddenly he threw me down and kicked and hit me," he said. "They ended by threatening to cut my nose off with pliers."
Nearly too much
Ottosen said he was tortured for about two weeks in a cell in Aleppo, as his captors tried to force him into confessing he was a spy.
"They were very good at torture," he said. "One of the tricks they used was to hang me up from the ceiling with my arms over my head and my hands handcuffed, hanging from a chain. I stood with both of my feet on the ground and they left me there for an entire day."
Ottosen said the torture was so horrendous he attempted to take his own life.
"I decided I didn't want to be a part of the world anymore," he said. "So I put the chain around my neck and held it with my little finger so that it couldn't loosen and then I jumped and tried to take my own life."
READ MORE: Photographer released after spending over a year in captivity in Syria
Ottosen was released in June last year after his family paid over 20 million kroner to IS. Much of the ransom came from a Facebook fundraising campaign started by Ottosen's sister, Anita Rye Ottosen.
The payoff created controversy as Emwazi went on to behead Ottosen's fellow captives. Ottosen has recounted his ordeal in a new book being released in Denmark today.