Sport
Puck drops nicely for Danish NHL players
---
This article is more than 8 years old.
Could this be the season a Dane finally wins the Stanley Cup?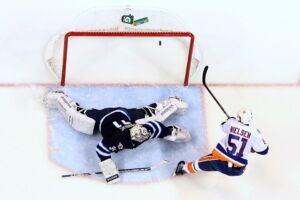 Most people lament the arrival of winter and the miserable cold and freezing winds it brings along with it. But for ice hockey fans, the icy roads and bare trees mean one thing: it's hockey season!
For Danish ice hockey fans, that means keeping tabs on their compatriots in the top league in the world, the NHL. That usually involves watching late-night NY Islanders games, keeping an eye on Anaheim Duck shut-outs and checking out Canuck, Coyote and Habs highlights on NHL.com.
But this year, there are a lot more angles to pursue to keep up with the on-ice action. Although the puck only dropped on the season last week, the six Danes competing in the league have been quick to net early points.
READ MORE: Denmark to host Ice Hockey World Championships in 2018
Danish Stanley Cup champ?
Frans Nielsen has continued to cement his legendary status among Islanders fans by picking up an assist in the first three games. Lars Eller has already notched two goals for Montreal, and rookie Nikolaj Ehlers has dished up a couple of assists in his first three career NHL games.
But the hottest starter must be Vancouver stalwart Jannik Hansen, who has amassed three points in as many games (1 goal, 2 assists).
Mikkel Boedker, meanwhile, has yet to score any points for Arizona, while last year's goalkeeping revelation in the NHL, Frederik Andersen, has lost his first two games of the season between the pipes for the Ducks.
Still, the big red-haired goaltender remains the most likely Dane to win the Stanley Cup this season. He came close to making it to the championship last year and the strong Ducks could skate right back into the mix again this season.
It is notable, however, that aside from Andersen, there are no Danish defensive players in the league. Philip Jensen left for the KHL last year while Oliver Lauridsen shipped over to the Swedish league along with his brother Markus.
But with their exodus comes a silver lining as all three should be available for the 2016 IIHF World Championship in Russia next May – a tournament that many NHL players tend to miss every year due to their participation in the Stanley Cup playoffs.