General
Mid- October Music: Dragons, metal-heads and an African soul
---
This article is more than 8 years old.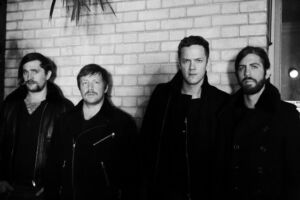 Imagine Dragons
Mon 19 Oct, 20:00; Forum; 370kr
The band that we all know due to the hit single 'Radioactive' are making a long overdue return to promote their head-banging second album, Smoke + Mirrors.
It has been two long years since their last concert on Danish soil – 2013 saw them play at Store Vega, the Northside Festival and Falconer Salen – and now they're back with some thrilling new tunes, of which 'Warriors' is a standout.
They left the Danish public wanting more, much more, so expect Imagine Dragons to take the stage by storm with their incredible take on rock music. (LAB)
Barbara Moleko
Sat Oct 17, 20:00; Vega; 250kr
An unprecedented number of Danish musicians have been breaking through in the international charts this summer and Barbara Moleko isn't hanging around either!
This year she's already had two smash hits: 'Gør Mig Lykkelig' and 'Helt Min Egen', on which she duets with rapper LOC.
Once heard, it's difficult to stop replaying the tunes in your head, even if you barely know how to pronounce them, because they are that great and catchy!
Originally from Mozambique, she moved to Denmark aged 12, but she hasn't lost her African groove or soul.(EN)
Christian Mistress
Thu Oct 15, 20:00; Amager Bio; 100kr

Expect massive riffs and driving rhythms from this American metal powerhouse. Punk influences, depth over distortion and a hard-edged female vocal set Christian Mistress apart from screaming, overwrought metal bands. (JM)
Fribytterdrømme & The Entrepreneurs
Fri Oct 16, 21:00; Lille Vega; 110kr
You'll be headbanging all night with these two incredible Danish punk acts. Experience Fribytterdrømme's psychedelic rock fusion and 'The Entrepreneurs' unstoppable noise rock at a show that is guaranteed to be explosive. (LK)
Terrible Feelings
Fri Oct 16, 21:00; Amager Bio; 125kr
Straight out of Malmö come these five young music fanatics who have conquered stages everywhere from London to Berlin. Their sound is somewhere in between dark pop and rock and is definitely worth sampling! (LK)
Joey Moe
Sun Oct 18, 14:00; Vega; 245kr

Mixing synthpop and R&B beats, Joey Moe's infectious hooks make him one to watch on the Danish scene. You might know him from 'Yo-yo', a hit in Denmark before being re-released in English to similar acclaim. This concert has been moved from October 10. (JM)