News
Archaeologists make unique discovery near Aarhus
---
This article is more than 8 years old.
Sacrificial remains from the Iron Age unearthed by Skødstrup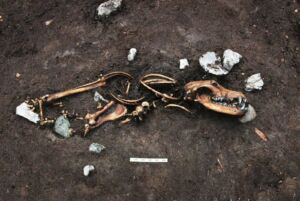 Archaeologists from Moesgaard Museum have discovered an unusually complete and well-preserved Iron Age find near Skødstrup just north of Aarhus.
Several bogs containing sacrificial offerings have been found in the area, including the remains of one human and eight dogs next to tethering poles.
"We had great expectations for the excavations because graves and other sacrificial remains have been found in the area," said archaeologist Per Mandrup, the head of excavations at Moesgaard Museum.
"But the new find has exceeded all expectations, and the discovery of a human skeleton is the icing on the cake. The skeleton is of a young woman in her 20s and the find brings us closer to the sacrificial customs of the later Iron Age."
Aside from the sacrificial victims, the archaeologists are currently excavating a village that includes a well-preserved paved road and house floors.
READ MORE: Archaeologists to uncover secrets of Viking fortress
Superb Skødstrup
During the early Iron Age, bogs were used for peat digging and several centuries later a practice emerged in which humans and animals were killed and laid into the old peat pits as sacrifices to the gods.
In another bog east of the area, unique archaeological discoveries have been unearthed since the 1800s, including swords, lances, parts of shields, human skeletons, a phallus and 13 dog remains.
"In Skødstrup we have the entire palette of an Iron Age society: a well-structured village with accompanying burial area and sacrificial bogs. It give us a unique, collective insight into life during the Iron Age," said Mandrup.
The discovery was made in connection with some extensive land development undertaken by Aarhus Municipality.
A well-preserved human skeleton was also found in the bog (photo: Moesgaard Museum)