News
Danes unseeded thanks to last-gasp Turks
---
This article is more than 8 years old.
Denmark will face Sweden, Ukraine, Hungary or Bosnia in their Euro 2016 playoff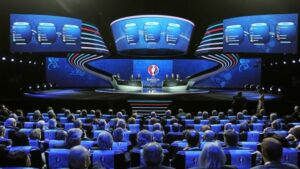 Denmark will be one of the four unseeded teams to come out of the hat when the Euro 2016 playoff draw takes place in Nyon, Switzerland on Sunday.
The Danes were actually on the brink of being seeded for the draw, but an 89th minute winner by ten-men Turkey against Iceland, and Kazakhstan's win in Latvia, meant the Turks automatically qualified for the tournament as the best third-placed team instead of Hungary, which then relegated Denmark to the unseeded pot.
Denmark has therefore avoided Norway, Slovenia and Ireland and will be drawn to play either Ukraine, Sweden, Bosnia and Herzegovina, or Hungary for the privilege of taking part in Euro 2016 in France next summer.
The first leg will be played on November 12-14, while the second will take place on November 15-17. The playoff draw will be held on Sunday at 11:15 am.
READ MORE: Albania ends Denmark's automatic Euro 2016 dream
Decent U-21 start
In related news, the Danish Under-21 national team kicked off its 2017 European Championships qualification campaign with a 0-0 draw at home to Wales on Friday and a 1-0 win versus Bulgaria on Tuesday evening.
The new under-21 batch have some large boots to fill as the previous under-21 squad reached the semis of the European Championships in Czech Republic this year.
On Tuesday the under-21s beat the Bulgarians thanks to a second-half strike by Brøndby winger Andrew Hjulsager.
The Danes (4 points from 2 games) currently sit fourth in Group 5 behind leaders Bulgaria (9 points), Romania (9 points) and Wales (7 points), but the Danes have have three games in hand on Bulgaria, two on Romania and one on Wales.
Up next for the Danes is Romania away on November 13 followed by bottom side Armenia at home on November 17. The final team in the group is Luxembourg.