News
Copenhagen Airport launching new takeaway concept
---
This article is more than 8 years old.
'Food to Fly' to provide passengers with tastier options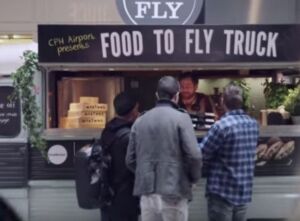 The days of lousy airline food could be on a downward trajectory … at least if you're flying out of Copenhagen Airport.
The airport is seeking to underline the Danish capital's status as one of the world's cuisine hubs by launching a new takeaway concept that aims to improve the standard of food consumed in the skies.
The concept, 'Food to Fly', hinges on a number of cafes and restaurants being able to offer quality gourmet takeaway food that passengers can then take on board their flights.
"It builds on an idea to give the passengers more choice compared to the food they can choose to bring on board," said Lise Ryevad, the head of Airport Sales, told TV2 News.
The concept has been launched because it was found that some 25 percent of passengers preferred to purchase food and bring it with them rather than eating airline-served food.
READ MORE: Copenhagen Airport to launch automatic passport control
Ignorance ain't bliss
However, the concept could be hampered by the ignorance of those who stand to gain most by the initiative: the passengers.
A recent survey by Analyse Danmark revealed that only 50 percent of passengers are aware they are permitted to take food with them onto flights.
Aamanns, Gorm's, YO! Sushi, O'Learys, Baresso Coffee, FoodMarket, Le Sommelier, Caviar House & Prunier, Steff's Place, and 7-Eleven are part of the new concept and all offer specially-packaged takeaway offers for the flight.
"Whether you are flying with SAS, Norwegian, Emirates or any another airline, there are different rules regarding taking food and beverages on board the aircraft," wrote Copenhagen Airport.
"For this reason, it is always a good idea to find out ahead of time from the airline company whether you are allowed to take food with you on board the aircraft."